New Gammill Gallery Exhibit by Jaime Johnson
Below is an artist statement from Jaime Johnson about her exhibit "Untamed," which is now on exhibit in the Gammill Gallery. Join us for an artist's reception for Johnson on Tuesday, February 9 at 3:30pm. The Gammill Gallery is free and open to the public, Monday – Friday, 9am to 5pm.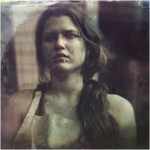 Hope and the future for me are not in lawns and cultivated fields, not in towns and cities, but in the impervious and quaking swamps.
– Henry David Thoreau
Aligning with the tradition of Southern Gothic, Jaime Johnson's Untamed articulates humankind's capacity to decay as a marker of our identity. Set in the swamps and woods of Mississippi and Louisiana, natural places where one encounters life and death, growth and decay, Untamed depicts the fictitious story of a feral woman and her companions. The woman, interacting with the grotesque and the macabre, takes possession of the very thing that might undo her. Recognizing the deaths of other creatures, this woman observes in death that she, too, will be repurposed and consumed by the earth. Roger Thompson, Associate Professor of Writing and Rhetoric at Stony Brook University, writes of Johnson's photograph Bone Dress that "the stereotypical southern belle dress is transformed into a pile of bones, a startling (if also darkly humorous) reimagining of the Southern woman."
The cyanotype process shifts focus from potentially colorful landscapes and figures to patterns, textures, and the relationships of forms within the images. Tea-staining the prints dulls the native blue of the cyanotype and adds warmth. Printing on Japanese Kitakata paper, which is prone to ripping, tearing, and wrinkling, reflects the deterioration of nature and gives the prints a feeling of fragility. Untamed ultimately reflects upon the human condition, the forms, the impermanence, and the interconnectedness of natural life.
– Jaime Johnson
---
Jaime Johnson grew up in Mississippi where the sounds of wild animals outside her window became her daily melody.  Jaime received her BFA from the University of Mississippi in Imaging Arts and her MFA in Photography from Louisiana Tech University. Johnson was awarded Honorable Mention for her experimental short, Flutter in the 11th Annual Oxford Film Festival in 2011.  Jaime was named a finalist for the 2014 Clarence John Laughlin award and her work has been shown nationally in venues such as the Center for Fine Art Photography, The SOHO Photo Gallery in New York, The New Orleans Photo Alliance, and the Ogden Museum of Southern Art . Her work has been published in ShotsMagazine, Don't Take Pictures, Light Leaked, and Seites, and her series Untamed recently won the Grand Prize in the Maine Media Workshops international contest Character: Portraits and Stories that Reveal the Human Condition.