by Kelley Norris
Scott Barretta, writer and researcher for the Mississippi Blues Trail and an adjunct instructor in sociology and anthropology at the University of Mississippi, has lived in the state for sixteen years, but his blues journey began long before his arrival here.
A multidecade musical odys­sey has led Barretta to receiving the Mississippi Arts Commission (MAC) 2016 Governor's Award for Excellence in the Arts for Mississippi Heritage. The award will be presented at the 28th Governor's Awards ceremony, set for 6:00 p.m., February 11, in Jackson.
Barretta grew up in northern Virginia. As a student at George Mason University and the University of Virginia, he focused his under­graduate and graduate work on polit­ical sociology and did some research on blues history at UVA. In 1992, his doctoral studies took him to Lund University in Sweden, where his ad­visor encouraged him to pursue the topic further.
While in Sweden, Barretta be­gan writing for the Swedish blues magazine Jefferson, named for Blind Lemon Jefferson and entirely in Swedish, and in 1995 he became its editor. This led him to write for oth­er publications in the United States, including Living Blues.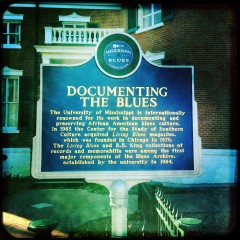 Barretta first came to Mississippi in 1988 to attend blues festivals and visit juke joints in Clarkdale, Greenville, Chulahoma, and other places. He met Living Blues editor David Nelson, who recruited Barretta to succeed him as editor in 1999.
"I really had no plans for leav­ing Sweden when David initial­ly approached me, but I eventual­ly decided that it was a once-in-a-lifetime opportunity to get paid to study blues in Mississippi," Barretta said. "I was an aca­demic who was editing a blues magazine on the side. Becoming a full-time editor at the Center for the Study of Southern Culture seemed liked a good move."
Sixteen years later, Barretta says he has de­veloped a deep love for Mississippi while learning the intricacies of its musical culture and how its connections per­meate the state. He has experienced the blues firsthand, getting to know legends such as Bobby Rush and go­ing to Junior Kimbrough's juke joint, Otha Turner's fife and drum picnic, the Flowing Fountain in Greenville, and Betty's place in Noxubee County, where Willie King played every Sunday night.
Besides his work with Living Blues and the radio show Highway 61, Barretta is, along with founding Living Blues editor Jim O'Neal and graphic designer Wanda Clark, on the team that created the Mississippi Blues Trail, which features more than one hundred and eighty historical markers across the state and as far away as Norway and France.
"That we have so many mark­ers that feature multiple images and over five hundred words, and that we're doing so in Mississippi, is groundbreaking in terms of cul­tural and historical interpretation of African American vernacular cul­ture," Barretta said. "Other states and regions often contact us to in­quire about how they can do this, but no one has really followed suit."
He is working with filmmak­er Joe York and UM's Southern Documentary Project to produce the forthcoming documentary Shake 'Em on Down: The Blues According to Fred McDowell. Barretta and York will screen the film on April 6 as part of the Music of the South Symposium.