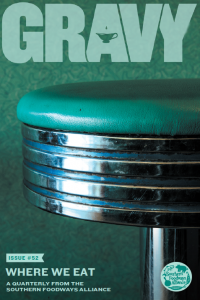 Gravy is the Southern Foodways Alliance's quarterly journal. It portrays the diverse food cultures of the changing American South through creative nonfiction, narrative journalism, oral history, poetry, short fiction, recipes, and photography. Each issue has a loose theme related to the SFA's work, with topics like Appalachia and women at work.  The most recent issue explores where we eat as part of the SFA's yearlong study of inclusion and exclusion in southern foodways.
All current SFA members receive a subscription to Gravy, and you can learn about memberships here. For those hoping to get a taste of Gravy before signing up for a membership, the SFA blog features excerpted articles from time to time.
Here's one of those excerpts, an article by Bernie Herman entitled "The Bayford Oyster House: Food, Place, and a Party."
Contact the SFA's Managing Editor Sara Camp Arnold with any Gravy-related questions.