This article, from the Spring/Summer 2016 Southern Register, is by Sarah Cascone.
Living Blues Magazine Hires New Publication Manager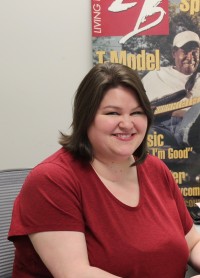 Melanie Young feels as though she's come home since she's been hired as the new publication manager of Living Blues magazine. She first began working with the magazine in 2009 as the circulation manager, and also had an editorial internship with the publication. Since then, she's been a contributing writer for Living Blues and even wrote her Southern Studies master's thesis on the magazine in 2012.
"Growing up in Mississippi, I was drawn to elements of the blues in popular music without really understanding what the blues was, or where it came from," Young said. "As a student, the Center and Living Blues gave me the opportunity to deepen my knowledge of the art form within its cultural context—something that's forever changed me and how I see the world."
As publication manager, Young's duties include managing the day-to-day tasks necessary to the upkeep of the magazine, which consists of subscription services, publishing, distribution, marketing, and accounting. In addition, Young also trains and supervises graduate assistants and student workers.
In her new position, Young hopes to increase the magazine's circulation and prominence by attending more events, broadening the magazine's presence on social media platforms, and making readers more aware of the magazine's digital edition.
"Hundreds of blues artists have shared their stories through the pages of Living Blues over the years, and I'm honored to further my association with a publication that continues to do such important work," Young said.
Before accepting her new position at Living Blues magazine, Young worked as a freelance writer for the magazine, as well as a professional assistant for Diann Blakely, a Georgia-based poet.
Young was born in Mobile, Alabama, and her family moved to Lucedale, Mississippi, in 1989 and has lived there ever since. In 2008, Young earned her bachelor's degree in English Literature at the University of Southern Mississippi.
Adam Gussow, associate professor of English and Southern Studies, said he is thrilled to have Young join the staff of Living Blues magazine. He was a member of Young's master's thesis committee and said she completed her thesis on Living Blues in an extremely detailed and precise manner. He is sure she will carry on the standard of excellence that her predecessor, Mark Camarigg, had established at the magazine, as well as bringing in new and fresh ideas.
"She's proven herself over the past several years to be a skilled and compassionate writer, interviewer, and reviewer for the magazine," Gussow said. "I think that her ability to wear that other hat, as it were, will help solidify Living Blues' longstanding and deserved reputation as the blues magazine of record, with extended interviews and a reputation-making CD review section."
Sarah Cascone