A preview of the newest Living Blues magazine by Melanie Young, the new Publications Manager.
Check out the June 2016 Living Blues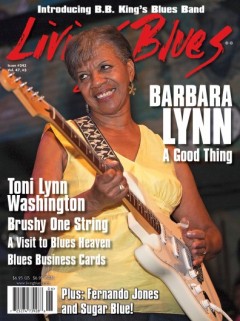 The June 2016 issue of Living Blues features a cover story on guitarist and singer Barbara Lynn, best known for her 1962 hit You'll Lose a Good Thing. From learning to play guitar in her youth to being sampled by rapper Lil' Wayne, the Beaumont, Texas native looks back on her 54-year career. Other in-depth interviews include Boston's queen of the blues, Toni Lynn Washington, and the dynamic Jamaican-born artist Brushy One String. We introduce the newly-formed B. B. King Blues Band, which features Jackson, Mississippi guitarist and vocalist Jesse Robinson as frontman.
In this issue, Living Blues also visits Willie Dixon's Blues Heaven Foundation in Chicago, talks with musicians Fernando Jones and Sugar Blue, and examines the business of the blues with a fascinating collection of historical blues business cards. Our 2016 Living Blues Reader's Awards poll is now open, and you can view the nominees and cast your vote at www.livingblues.com. The extensive review section includes both new releases and reissues, and the Living Blues Radio Charts spotlight the top albums on blues radio for March and April.
Digital and print subscriptions to Living Blues start at just $18.00 and are available at www.livingblues.com.