GIlder-Jordan Lecture with Theda Perdue Recap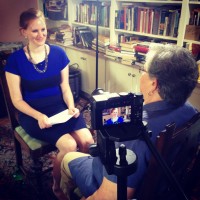 Dr. Theda Perdue presented the 2015 Gilder-Jordan Lecture in Southern Cultural History on September 9. Her talk, partially inspired by the religious studies scholarship of Charles Reagan Wilson, was titled "Indians and Christianity in the New South."
On the morning of the lecture, Dr. Mikaëla M. Adams of the UM Department of History interviewed Dr. Perdue about her career as a scholar and the state of the field of study of American Indians. Watch that interview, which the Southern Documentary Project filmed, here:
Here is the full lecture by Dr. Perdue, with a welcome by Dr. Ted Ownby and an introduction by Dr. Mikaëla Adams.
Southern Studies graduate student Sophie Hay documented the lecture through photographs, too.