Written By Rebecca Lauck Cleary
After graduating with his M.A. in Southern Studies in 2019, Hooper Schultz decided to remain at the University of Mississippi for another year and earn his M.F.A. in Documentary Expression. On April 28, he defended his thesis and fulfilled that goal.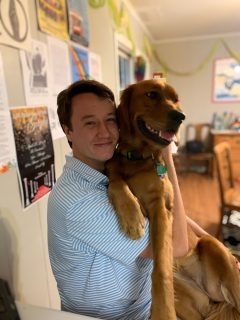 Schultz is a historian whose work has focused mainly on LGBTQ oral histories in the South, the Carolina Gay Association, and the Southeastern Gay Conferences of 1976-1978. 
"Within my thesis project, I discuss the photographic, audio, and web-design work that went into the creation of my thesis 'The Southern Front: Gay Liberation Activists In the U.S. South and Public History Through Audiovisual Exhibition,'" Schultz said.
Originally from Raleigh, North Carolina, by way of Charleston, South Carolina, he is a graduate of the University of North Carolina at Chapel Hill with a degree in English. After he arrived in Oxford, he became heavily involved in the LGBTQ community in town, and helped to found OUTGrads, an LGBTQ graduate and professional student organization on campus.
"I wanted to take my thesis project, in which I had learned so much about the history of gay liberation in the U.S. South, and share that history with others, working with the oral history narrators that I have grown so close with during my M.A.," he said. "I wanted to use the resources here at the Center to expand my documentary practice and to learn new skills as an artist, and the M.F.A. let me flex my creative muscles."
Schultz conducted oral histories through a series of face-to-face interviews across the southeast over the course of three years and said he learned so much that surprised him because the Carolina Gay Association and Southeastern Gay Conferences have been written about and studied very little up until now.
During the course of this year, his project evolved from very strictly a historical project with some interdisciplinary American Studies and documentary work into a project that involves public history and a more committed approach to documenting people and the practice of making documentary art. 
Normally, part of the graduation requirements for the M.F.A. degree include a public component, but that changed due to COVID-19.
"I had hoped to have a public exhibit for my final product titled 'Pushing The Limits: A Southern Gay Liberationist Retrospective', and obviously that's not going to be possible, so now I am reworking this into a website with the help of the Center, which will hopefully be up by May, but I'm giving myself leeway to do it on my own time," Schultz said. "Thankfully, the Center has worked to be flexible with M.F.A. students about our thesis requirements during the global pandemic."
Part of the flexibility comes by way of his thesis committee, which includes Brooke White, professor of art and art history; Andy Harper, Director of the Southern Documentary Project; Jessie Wilkerson, assistant professor of history and Southern Studies; and chair David Wharton, Director of Documentary Studies.
"Hooper has successfully combined scholarship with art-making to shed light on an important, but under-studied, part of southern history and culture," said Wharton, assistant professor of Southern Studies.
Schultz, like all the other students this spring, defended his thesis remotely, which he was not excited about, but now that it's over, he is pleased that he finished on time.
"I have to say how thankful I am for the Center, especially Katie McKee and Jessie Wilkerson, for checking in on graduate students so intentionally and thoughtfully as this global crisis has unfolded," Schultz said. "I have felt so thankful for such a sincerely caring community of faculty and staff. Secondly, I am thankful for David Wharton, who I talked to on the phone a number of times, and who assured me we'd find a way to get this done. It has not been easy, I've panicked a lot, and frankly I have struggled to get it done."
Wilkerson, who was his M.A. thesis advisor, referred to him as a terrific graduate student. 
"Hooper Schultz is helping to blaze a path for future students who complete the M.A. on the thesis track and then work on an M.F.A. in documentary expression in order to interpret research in new ways," Wilkerson said. "During his three years at UM, Hooper has made important scholarly interventions in Southern Studies and queer history, while also working to make Southern queer history more accessible through his documentary project and his public history work for the Invisible Histories Project-MS, for which he has been an oral historian and research assistant."
Schultz's exploration of LGBTQ oral histories continues after graduation, as he goes on to pursue his doctorate in history at UNC-Chapel Hill.
"I love the work I have been doing and plan to continue research on the Carolina Gay Association, Southeastern Gay Conferences, and gay liberation networks in the South while pursuing my Ph.D. in history at UNC-Chapel Hill," he said. "The future seems hazy right now, but I'd love to pursue an academic career after the Ph.D., work in a museum, or work in LGBTQ+ activism or support work after it's all said and done."