SST 102: The Southern Protest Mixtape
Brian Foster, Assistant Professor of Sociology and Southern Studies, is teaching Honors Southern Studies 102 this semester. The interdisciplinary course is structured as an examination of southern protest culture, and organized like a mixtape. See excerpts from his syllabus below. This is part of an occasional series in which we share syllabi from Southern Studies courses.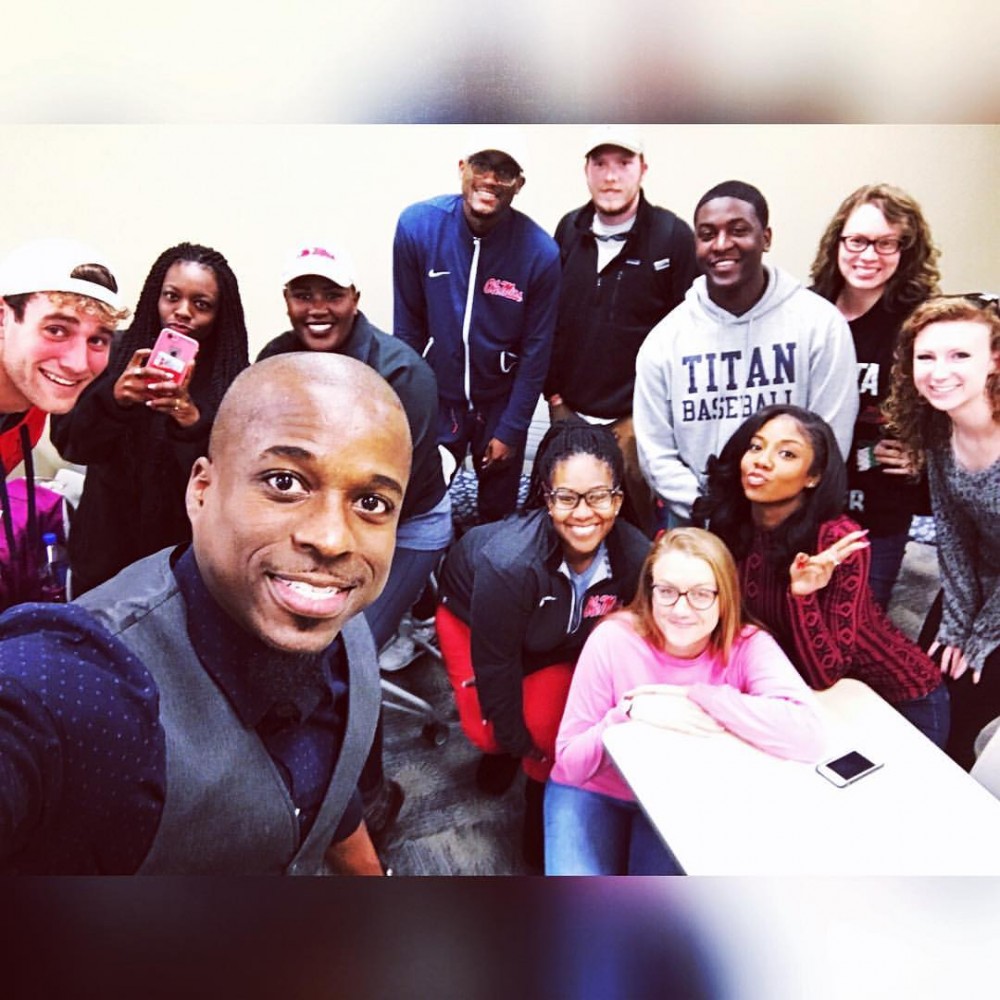 Southern Studies 102 / Introduction to Southern Studies
The Southern Protest Mixtape
Spring 2017
By B. Brian Foster
mixtape
/`mikstāp/
noun
a recording on a cassette tape, CD, or digital medium consisting of blended or recombined tracks, or a series of tracks with smooth transitions.
OVERVIEW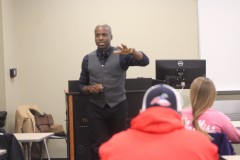 The American South is a riddle, a paradox—a region of tragedy and romance, violence and agape; a place of laughter and lynching, fried gizzards and sweet tea; home of Wallace and King, Hurston and K.R.I.T.; cathedral of southern belles, debutantes, and Bounce. This course interrogates the people and history of the South through a critical reading of the region's protest culture(s)—Nina Simone's "Mississippi Goddam," Merle Haggard's "I'm just a White Boy," Beyonce's "Formation," and others. In the first section of the course, we will consider the conceptual foundations of "racism," "race," "regionalism," and "protest." We will then survey key events, figures, and epochs of southern history, from Slavery and Emancipation to Outkast's audacious pronouncement—"the South Got Something to Say"—at the 1994 Source Awards. In the final section of the course, we will examine personal and alternative notions of protest. This course is highly interdisciplinary. We will consider perspectives from a variety of disciplines, from sociology to the humanities, and "texts," from scholarly essays to popular culture.
COURSE OBJECTIVES
This course is meant to help develop your: (1) capacity to engage issues related to racism, racial inequality, and social change; (2) awareness of the diverse people and complex histories of the U.S. South; (3) ability to critically assess and deconstruct the relationship between historical and contemporary social issues; and (4) understanding of interdisciplinary research methods. Beyond these, please take note of the general curricular goals put forth by the College of Liberal Arts.
Course Schedule
Tape 1 – Kreation
Kreation—itself an homage to Mississippi-based rapper, Big K.R.I.T.—samples from an assortment of both southern- and non-southern-based protest music. The goal is to motivated students to address conceptual questions such as, "what is racism?" and "what constitutes protest?"
Week 1
Tuesday (1/24) – Intro / "What's your song?"
Syllabus and Course Overview
Thursday (1/26) – Interlude / A Sociology Primer
Week 2
Tuesday (1/31) – "Southern State of Mind" (Darius Rucker) / Turning South
Reed, John. 2013. "The Three Souths." Pp. 11-21 In Minding the South.
Reed, John. 1993. "The South: Where is it? What is it?" Pp. 5-28 in My Tears Spoiled my Aim.
Thursday (2/2) – "Power" (Kanye West) / What is Racism? What is Race?
Feagin and Feagin. 2011. "Basic Concepts…" Pp. 4-27 in Racial and Ethnic Relations.
Lukes, Steven. 2015. "Introduction." Pp. 1-13 in Power: A Radical View.
Week 3
Tuesday (2/7) – "Fuck I Look Like" (Kai Davis) / Racialization, Regionalization, and Intersectionality
Hull, Gloria, Patricia Scott, and Barbara Smith. "Introduction." in But Some of us are Brave.
Robinson, Zandria. 2014. "Introduction." Pp. 11-23 in This Ain't Chicago.
Emba, Christine. 2015. "Intersectionality." The Washington Post.
Recommended (Watch): Crenshaw, Kimberlé. "The Urgency of Intersectionality." (19 min.)
Thursday (2/9) – "Get up, Stand up." (Bob Marley) / On Protest and Art
Tape 2 – Epoch
Epoch samples songs and performances that illuminate some aspect of southern history. Many of the linkages are obvious—they are written or performed by southern artists, focus on an issue or symbol endemic to southern culture, or problematize conventional narratives about the South and southern history. Students will critically engage each track, while also using the music as entre to a broader conversation about what was happening in the South—socially, culturally, politically, intellectually—at the time the song was made.
Week 4
Tuesday (2/14) – "Roll Jordan Roll" (written by Charles Wesley) / The Antebellum South
Jones, Leroi. 1999. "Slaves: Their Music." Pp. 17-31 in Blues People.
Palmer, Robert. 1982. "Beginnings." Pp. 23-48 in Deep Blues.
Watch: "Slave Songbook." (17 min.)
Thursday (2/16) – "Dixie" (Daniel Emmett) / The Post-Emancipation South
Wilson, Charles Regan. 2011. "The Invention of Southern Tradition." in Flashes of a Southern Spirit.
Watch: "Memory, Myth, and Memorial." (9 min.)
Week 5
Tuesday (2/21) – "Strange Fruit" (Billie Holiday) / From the Cross to the Lynching Tree
Wells-Barnett, Ida B. 1892. Southern Horrors: Lynch Law in All its Phases.
Equal Justice Initiative. Lynching in America: Confronting the Legacy of Racial Terror.
McFadden, Syreeta. 2016. "He Lived." Buzzfeed.
Thursday (2/23) – "We Shall Overcome" (Guy Carawan) / Civil Rights, Pt. I
Reed, T.V. 2005. "Singing Civil Rights – The Freedom Song Tradition." Pp. 1-39 in The Art of Protest.
Week 6
Tuesday (2/28) – "Onward Christian Soldiers" (S. Baring-Gould) / Civil Rights, Pt. II
Simon, Bryant. 1997. "Introduction." in Race and Rumors of Race by Howard Odum.
Southern Poverty Law Center. 2011. "Ku Klux Klan: A History of Racism and Violence."
Recommended (Read): Jacobs, Michael. 2010. "Co-Opting Christian Chorales: Songs of the Ku Klux Klan." In American Music.
Watch: "The Invisible Empire: the KKK and Hate in America" (27 min.)
Thursday (3/2) – Mississippi Goddam (Nina Simone) / Civil Rights Pt. III
Loudermilk, A. 2013. "Nina Simone and the Civil Rights Movement." JIWS.
Pierpont, Claudia R. 2014. "A Raised Voice"" The New Yorker.
Recommended (Read): Feldstein, Ruth. 2005. "I Don't Trust You Anymore" in JAM
Recommended (Watch): "Hard Talk with Nina Simone" BBC. (25 min.)
Week 7
Tuesday (3/7) – Interlude / Mid-Term
Thursday (3/9) – Flex (Party Boyz) / Flex Day
Week 8 – Spring Break / No Classes
Week 9
Tuesday (3/21) – "Give More Power to the People (The Chi-Lites) / Bloody Lowndes
Thursday (3/23) – "I'm just a White Boy" (Merle Haggard) / (Racial) Pride and Prejudice
Hughes, Charles. 2015. "Pride and Prejudice…" Pp. 128-151 in Country Soul.
Week 10
Tuesday (3/28) – "Southernplayalisticadillacmuzik" (Outkast) / The South Raps
Grem, Darren E. 2006. "The South Got Something to Say." In Southern Cultures.
Week 11 – No Class
Tape 3 – Aesthetic
On the Aesthetic tape students begin/continue to grapple with "alternative" notions of protest, including their own approaches to resistance and social change.
Week 12
Tuesday (4/11) – "From Dixie with Love" (Ole Miss Band) / Old South New
Thursday (4/13) – "Explode" (Big Freedia) / LGBTQIA in the South
Week 13
Tuesday (4/18) – "Borders" (Denice Frohman) / Latinx in the New South
Thursday (4/20) – "Formation" (Beyoncé) / Reimagining "South"
Week 14 – Class Presentations
Week 15
Tuesday (5/2) – "21 Questions" (50 cent feat. Nate Dogg) / Q&A with Brian
Thursday (5/4) – "Time Machine" (Big K.R.I.T.) / Class Review