SouthTalks: "Voter Suppression and U.S. Elections" Roundtable Discussion
-
-
SouthTalks: "Voter Suppression and U.S. Elections" Roundtable Discussion
When:
October 14, 2020 @ 6:00 pm – 7:00 pm
2020-10-14T18:00:00-05:00
2020-10-14T19:00:00-05:00
Jim Downs, Carol Anderson, and Kevin M. Kruse present a roundtable discussion on "Voter Suppression and U.S. Elections" at 6 p.m. Wednesday, Oct. 14 as part of the Voting Rights and Community Activism series. This discussion will be available via Zoom at https://olemiss.zoom.us/j/97772145536.
In this election year, the Center for the Study of Southern Culture has partnered with the University of Georgia Press to host a roundtable discussion with coeditor of the UGA Press History in the Headlines series and editor of the recently published Voter Suppression in US Elections, Jim Downs. Carol Anderson and Kevin M. Kruse join Downs in this conversation.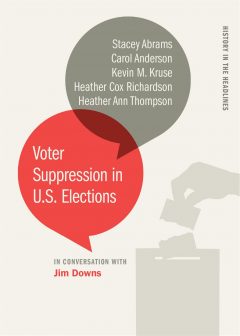 Historians have long been engaged in telling the story of the struggle for the vote. In the wake of recent contested elections, the suppression of the vote has returned to the headlines, as awareness of the deep structural barriers to the ballot, particularly for poor, black, and Latino voters, has called attention to the historical roots of issues related to voting access. Perhaps most notably, former state legislator Stacey Abrams's campaign for Georgia's gubernatorial race drew national attention after she narrowly lost to then-secretary of state Brian Kemp, who had removed hundreds of thousands of voters from the official rolls. After her loss, Abrams created Fair Fight, a multimillion-dollar initiative to combat voter suppression in twenty states. At an annual conference of the Organization of American Historians, Carol Anderson, Kevin M. Kruse, Heather Cox Richardson, and Heather Anne Thompson had a conversation with Stacey Abrams about the long history of voter suppression at the Library Company of Philadelphia. Voter Suppression in U.S. Elections is a transcript of that extraordinary conversation, edited by Jim Downs.
Jim Downs is the Gilder Lehrman NEH Professor of History and Civil War Studies at Gettysburg College. He is the author or editor of six other books, including Sick from Freedom: African American Illness and Suffering during the Civil War and Reconstruction.
Carol Anderson is the Charles Howard Candler Professor and Chair of African American Studies at Emory University. She is the author of Eyes off the Prize: The United Nations and the African American Struggle for Human Rights, 1944–1955, Bourgeois Radicals: The NAACP and the Struggle for Colonial Liberation, 1941–1960, White Rage: The Unspoken Truth of Our Racial Divide, and One Person, No Vote: How Voter Suppression Is Destroying Our Democracy. She is a regular contributor to the Guardian and advisor for its yearlong series on voting rights.
Kevin M. Kruse studies the political, social, and urban/suburban history of twentieth-century America. Focused on conflicts over race, rights, and religion, he has particular interests in segregation and the civil rights movement, the rise of religious nationalism and the making of modern conservatism. He is the author of White Flight: Atlanta and the Making of Modern Conservatism, One Nation under God: How Corporate America Invented Christian America, and, with Julian Zelizer, Fault Lines: A History of the United States since 1974.
SouthTalks is a series of events (including lectures, performances, film screenings, and panel discussions) that explores the interdisciplinary nature of Southern Studies. As a result of the current health crisis, all events will be virtual, free, and accessible on the Center's YouTube channel. Visit the Center's website for up-to-date information about all Center events. Registration will be required for all events.