SouthTalks: "Still Worth Fighting For"
-
-
SouthTalks: "Still Worth Fighting For"
When:
April 14, 2021 @ 12:00 pm – 1:00 pm
2021-04-14T12:00:00-05:00
2021-04-14T13:00:00-05:00
Black students have struggled to reimagine the university. That struggle is one still worth fighting for. In the 1980s, when the rightward momentum shook the world to its core, Black student movements offered an alternative vision. Joshua M. Myers's presentation will look to Howard students during that era as a model for what we still might do with the university.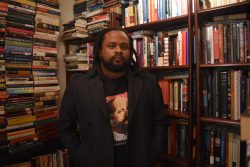 Myers's book, We Are Worth Fighting For, is the first history of the 1989 Howard University protest. The three-day occupation of the university's administration building was a continuation of the student movements of the sixties and a unique challenge to the politics of the eighties. Upset at the university's appointment of the Republican strategist Lee Atwater to the Board of Trustees, students forced the issue by shutting down the operations of the university. The protest, inspired in part by the emergence of "conscious" hip-hop, helped to build support for the idea of student governance and drew upon a resurgent Black Nationalist ethos.
At the center of this story is a student organization known as Black Nia F.O.R.C.E. (Freedom Organization for Racial and Cultural Enlightenment). Cofounded by Ras Baraka, the group was at the forefront of organizing the student mobilization at Howard during the spring of 1989 and thereafter. We Are Worth Fighting For explores how Black student activists—young men and women— helped shape and resist the rightward shift and neoliberal foundations of American politics. This history adds to the literature on Black campus activism, Black Power studies, and the emerging histories of African American life in the 1980s.
Joshua M. Myers is an associate professor of Africana studies in the Department of Afro-American Studies at Howard University. He is the author of We Are Worth Fighting For: A History of the Howard University Student Protest of 1989 (2019) and the editor of A Gathering Together: Literary Journal.
SouthTalks is a series of events (including lectures, performances, film screenings, and panel discussions) that explores the interdisciplinary nature of Southern Studies. This series is free and open to the public, and typically takes place in the Tupelo Room of Barnard Observatory unless otherwise noted. However, as a result of the current health crisis, all events will be virtual, free, and accessible on the Center's YouTube channel after each live event. Visit the Center's website for up-to-date-information about all Center events. Registration will be required for all events in order to receive the webinar link.