Gilder-Jordan Lecture: Carol Anderson
-
-
Gilder-Jordan Lecture: Carol Anderson
When:
October 13, 2020 @ 6:00 pm – 7:00 pm
2020-10-13T18:00:00-05:00
2020-10-13T19:00:00-05:00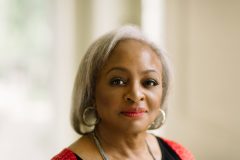 Carol Anderson is the Charles Howard Candler Professor and Chair of African American Studies at Emory University, and her lecture will be available to watch via Zoom at https://olemiss.zoom.us/j/99815767328.
Also on Oct. 13, Anderson will lead a "Black in the Academy" virtual discussion at 4 p.m. for graduate students, (click here for registration form) facilitated by Shennette Garrett-Scott, UM associate professor of history and African American studies. Anderson's contributions to the ongoing Twitter conversation "Black in the Ivory," created by Sharde Davis, amplify the voices of "Blackademics" to speak truth about racism in academia.
Her lecture is "One Person, No Vote: How Voter Suppression is Destroying Our Democracy." She is the author of Eyes Off the Prize: The United Nations and the African-American Struggle for Human Rights, 1944-1955, which was published by Cambridge University Press and awarded both the Gustavus Myers and Myrna Bernath Book Awards; as well as, Bourgeois Radicals: The NAACP and the Struggle for Colonial Liberation, 1941-1960, which was also published by Cambridge.
Her third book, White Rage: The Unspoken Truth of our Racial Divide, won the 2016 National Book Critics Circle Award for Criticism and is also a New York Times Bestseller and a New York Times Editor's Pick, and listed on the Zora List of 100 Best Books by Black Woman Authors since 1850.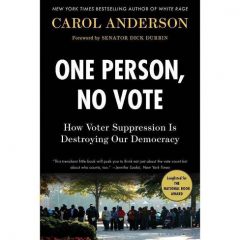 Her most recent book, One Person, No Vote:  How Voter Suppression is Destroying our Democracy, was Long-listed for the National Book Award in Non-Fiction and was a finalist for the PEN/Galbraith Book Award in Non-Fiction.
Her young adult adaptation of White Rage, We are Not Yet Equal was nominated for an NAACP Image Award.
In addition to numerous teaching awards, her research has garnered fellowships from the American Council of Learned Societies, the Ford Foundation, National Humanities Center, Harvard University's Charles Warren Center, and the John Simon Guggenheim Foundation.
She is a regular contributor to The Guardian and advisor for it yearlong series on voting rights.
Organized through the Center for the Study of Southern Culture, the African American Studies Program, Center for Civil War Research, and the Arch Dalrymple III Department of History, the Gilder-Jordan Speaker Series is made possible through the generosity of the Gilder Foundation, Inc. The series honors the late Richard Gilder of New York and his family, as well as UM alumni Dan and Lou Jordan of Virginia.
As a result of the current health crisis, all events will be virtual, free, and accessible on the Center's YouTube channel. Visit the Center's website for up-to-date information about all Center events. Registration will be required for all events.