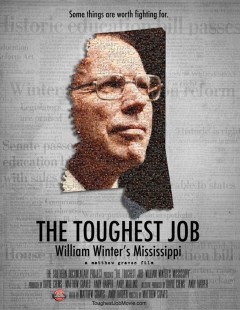 Attention, Mississippians.  The broadcast premiere of the Southern Documentary Project's The Toughest Job: William Winter's Mississippi will be Thursday, October 2 at 8pm on Mississippi Public Broadcasting.
The film, made by Matthew Graves, tells the story of former Mississippi Governor William Winter's career in politics with an emphasis on his hard-fought battle to reform education in the state, with one notable result the establishment of public kindergartens.
Plans for an open community screening the same evening, October 2, at Mississippi Public Broadcasting's studio in Jackson are underway. The celebration will begin at 6pm, followed by a screening at 7pm.  More details soon.
Check out a trailer below: