Check out the October/November LIVING BLUES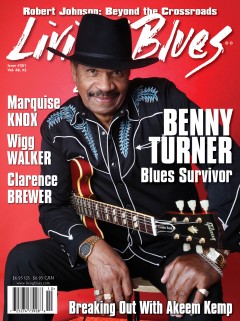 Living Blues #251 (October/November 2017) features bass player Benny Turner on the cover. Turner is the brother of Freddie King and has spent a lifetime backing some of the best in the blues. Missouri guitarist Marquise Knox is just 26, but has been on the scene for over a decade, schooling with the elder statesmen of the blues and developing his own unique style. Nashville singer Charles "Wigg" Walker talks about his 60-plus year career on the Nashville music scene, and Clarence Brewer discusses his own take on blues and visual art.
This issue also includes an excerpt from Adam Gussow's new book about the Robert Johnson legacy, Beyond the Crossroads: The Devil and the Blues Tradition. All this plus Breaking Out with Akeem Kemp, Blues News, reviews and much more.
Digital and print subscriptions to Living Blues start at just $18.00 and are available at www.livingblues.com.