Check out the June/July 2017 LIVING BLUES
A summary from Melanie Young of Living Blues.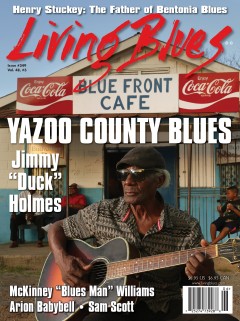 Living Blues #249 (June/July 2017) is a special issue devoted to the blues of Yazoo County, Mississippi. We explore the history of the county, the music and the musicians who made it. We then turn our spotlight on the current scene and the man who has committed his life to keeping it alive. Jimmy "Duck" Holmes and his family are central to Yazoo County blues. Not only is he the living embodiment of the Bentonia style of blues, he is also the owner of Mississippi's oldest juke joint, the Blue Front Cafe, and founder of one of the oldest blues festivals in the country, the Bentonia Blues Festival. The issue also covers some of the new talent from the area, features a historical article on the father of the Bentonia style, Henry Stuckey, and includes a guide for blues tourists who want to come to the area and explore the scene. We wrap it all up with a photo essay from photographer Bill Steber, who has spent nearly 25 years photographing in the county. All of this plus Blues News, reviews, the latest LB radio charts and more. Subscriptions to Living Blues start at just $18.00 and are available at www.livingblues.com.