Issue preview by Melanie Young
Living Blues #255 (June/July 2018) features Louisiana bluesman Chris Thomas King on the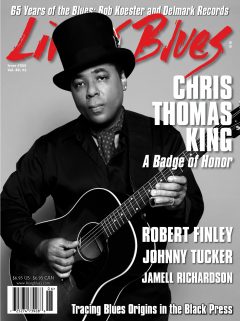 cover. A second generation Baton Rouge bluesman, King has been making records for more than 30 years and over that time his perception of the blues and where it came from has evolved and broadened. King discusses his early years with his father, Tabby Thomas, and his forthcoming book about the origins of the blues.
Louisiana soul singer and guitarist Robert Finley has leapt from obscurity to stardom in two short years. His raw, unabashed style endears him to lovers of old-school hard blues and soul. Drummer and vocalist Johnny Tucker has been playing blues since 1965 when he joined Phillip Walker's band, but he didn't record a solo album until 2006. On the heels of his second solo release we talk with the colorful character about his years in the scene.
We sit down and talk with author Lynn Abbott about the completion of his groundbreaking trilogy of books with collaborator Doug Seroff that trace the evolution of African American popular music from 1888 to 1926. After 65 years at the company's helm, Bob Koester recently sold Delmark Records. We look back at his remarkable life in the blues. All this plus Breaking Out with Jamell Richardson, the latest Blues News, reviews and much more.
Digital and print subscriptions to Living Blues start at just $18.00 and are available at www.livingblues.com.