Delta Blues Museum to Host Mississippi Blues Trail Curriculum Workshop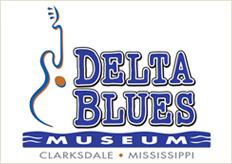 The Delta Blues Museum in Clarksdale is offering a 3-Day Teachers Workshop covering the Mississippi Blues Trail on Tuesday, July 28 – Thursday, July 30. Several people from the Center and the University will be helping, including Ted Ownby, Scott Barretta of Highway 61 Radio, Greg Johnson of the University Blues Archive, and Derrick Harriell of the UM Department of English.
Sign-up closes 22 July. Teachers, click here to register.
For a full schedule, click here.
Sessions will include discussions about the blues, how to incorporate the blues into classroom teaching, and resources available to teachers. Attendees will receive a bound copy of lesson plans created by the Mississippi Arts Commission for the Mississippi Blues Trail Curriculum. While the teacher booklets are designed to complement the Mississippi Blues Trail, they also work as stand-alone pieces in any classroom. Upon completion of the 3-day workshop, teachers will receive 1.6 CEU credits. The workshop is free to attendees.
The 3-day workshop will be held at the Delta Blues Museum in Clarksdale and is open to teachers of all subjects and all grade levels. Registration is available June 08, 2015 to July 21, 2015.
This workshop is FREE with an option to purchase lunches for the duration of the workshop at a fee of $35.00. The meals will be provided by Oxbow Restaurant, with a vegetarian option if preferred. All fees are non-refundable.
This workshop is co-sponsored by the Delta Blues Museum and the Center for the Study of Southern Culture. This program is financially assisted by the National Endowment for the Humanities through the Mississippi Humanities Council, the Mississippi Arts Commission, We Shall Overcome Fund and Atmos.