Center Director Named William Winter Professor of History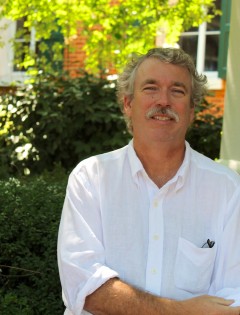 As director of the Center for the Study of Southern Culture at the University of Mississippi, Ted Ownby fulfills many roles. He recently added one more to the list as the university's William F. Winter Professor of History.
In 1992, the University of Mississippi Foundation established an endowment fund to promote and recognize excellence in historical scholarship and to honor former Gov. William F. Winter, a staunch supporter of public education. Ownby, professor of history and Southern studies, is the third faculty member to be appointed to the position; the previous two being professors Winthrop Jordan and Charles Eagles.
"Gov. Winter has been a leader in education, in racial reconciliation work, in Mississippi history, and he believes in continuing to work for progress of multiple kinds," Ownby said. "Winter is Mississippi history's most accomplished governor, and he is a great example for all of us.
"It's exciting as a scholar and teacher and encyclopedia editor to be connected to him."
Winter graduated from UM in 1943 with a bachelor's degree in history, then earned his law degree in 1949. While at Ole Miss, he was in Army ROTC, a member of the Phi Delta Theta fraternity and editor of The Daily Mississippian. During law school, he was chosen for the Phi Delta Phi law honorary and the Mississippi Law Journal staff.
A committee composed of full professors of history selected Ownby for the prestigious position. A faculty member at UM since 1988 and director of the Center for the Study of Southern Culture since 2008, Ownby is widely regarded as a leading scholar in the area of Southern history.
He has authored three books, "Subduing Satan" (1990), "American Dreams in Mississippi" (1999) and "Hurtin' Words: Ideas of Family Crisis and the Twentieth-Century South," which will be published this fall by the University of North Carolina Press, and is editor or co-editor of eight other books, including The Mississippi Encyclopedia, published last year by University Press of Mississippi.
Ownby has been a pillar of the graduate programs in both history and Southern studies during the past three decades, said Jeffrey Watt, acting chair of history. He has directed to completion 28 history doctoral dissertations and approximately 50 M.A. theses in history and Southern studies.
"Although the Winter chair is not specifically designated for a specialist in Southern history, Ownby definitely writes the type of history that fans of William Winter are bound to enjoy," Watt said. "Simply put, Ted Ownby is an invaluable asset to the Arch Dalrymple III Department of History and is most worthy of this honor."