Living Blues publications manager Melanie Young introduces the August/September magazine, available now.
August/September LIVING BLUES Available Now!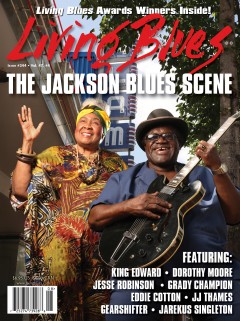 The August/September #244 issue of Living Blues shines a spotlight on the state of the blues in Jackson, Mississippi. Supported by a generous grant from the Jackson Convention and Visitors Bureau, this special edition of LB documents an under-the-radar, yet thriving local scene—one whose influential roots run deep.
Earlier this year, our team of writer Scott Barretta and photographer Bill Steber traveled to Jackson and found it rich with music, made both by elders and younger musicians on the rise. In one night alone, they witnessed over 30 musicians playing at downtown venue Hal and Mal's long-running Blue Monday Jam. Our cover artists are King Edward and Dorothy Moore, the reigning "king" and "queen" of Jackson blues. King came to Jackson with vocalist McKinley Mitchell in 1976, and the guitarist has been a city stalwart ever since. Moore became an overnight sensation with her beautiful 1975 recording of Misty Blue, and though her name and voice are known worldwide, she still calls Jackson home. We also profile guitarists Jesse Robinson, Gearshifter, Jarekus Singleton and Eddie Cotton, along with harmonica player Grady Champion and singer JJ Thames.
Using Jackson's 12 Mississippi Blues Trail Markers as a guide, blues scholar Jim O'Neal fleshes out the history of the city's blues and puts the current scene in perspective in a fascinating, in-depth essay. For those wishing to visit this "city with soul," we've also included handy guides to local performance venues and to the many soulful dining options around town.
The issue also features our extensive review section, Blues News, the latest Living Blues Radio Charts and the results of the 2016 Living Blues Critics and Readers Awards. Congratulations to all of this year's winners!
Digital and print subscriptions to Living Blues start at just $18.00 and are available at www.livingblues.com.