SST Alum Odie Lindsey Tours Southeast with New Book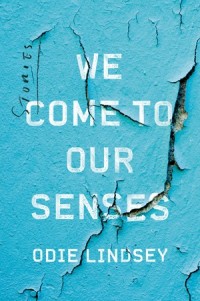 Odie Lindsey reads from his new book of short stories, We Come to Our Senses, this summer at bookstores across the South. Odie, an alum of the Southern Studies MA program, also worked as an editor of the Mississippi Encyclopedia.
Odie received his MFA in writing from the School of the Art Institute of Chicago.  A combat veteran, Lindsey's creative and scholarly work often examines the crosscurrents of war, gender, sexuality, and the South, likewise the role of the body in southern literature and culture. Odie is Senior Lecturer at Vanderbilt's Center for Medicine, Health, and Society.
Odie's writing appears in Best American Short Stories, Iowa Review, Guernica, Columbia, Forty Stories: New Writing from Harper Perennial, Fourteen Hills and elsewhere. Odie has a novel forthcoming from W.W. Norton.
About the book, from the Norton website:
Lacerating and lyrical, We Come to Our Senses centers on men and women affected by combat directly and tangentially, and the peculiar legacies of war. The story "Evie M." is about a vet turned office clerk whose petty neuroses derail even her suicide; in "We Come to Our Senses," a hip young couple leaves the city for the sticks, trading film festivals for firearms; in "Colleen" a woman redeploys to her Mississippi hometown, and confronts the superior who abused her at war; and in "11/19/98" a couple obsesses over sitcoms and retail catalogs, extracting joy and deeper meaning. The story "Hers" is about the sexual politics of a combat zone.
Read a story from the book here.
Reading Schedule
21 July 2016, 6:30
Parnassus Books, Nashville, Tenn.
28 July 2016, 6:30
The Booksellers at Laurelwood, Memphis, Tenn.
1 August 2016, 5:00
Square Books, Oxford, Miss.
2 August 2016, 5:30
TurnRow Book Co., Greenwood, Miss.
3 August 2016, 5:00
Lemuria Books, Jackson, Miss.
14-16 October 2016, time tbd
Southern Festival of Books, Nashville, Tenn.
27 October 2016, time tbd
Nasher Museum, Duke University (in dialog w/Southern Accent: Seeking the South in Contemporary Art)
29 October 2016, time tbd
Louisiana Book Festival, Baton Rouge, La.
5-6 November 2016, time tbd
Texas Book Festival, Austin, Tex.