This article by Rebecca Lauck Cleary appears in the Spring 2015 Southern Register. Jake will play a concert as part of the Summer Sunset Series on the Grove Stage this Sunday, June 21 at 7pm.
Jake Fussell Releases Debut Album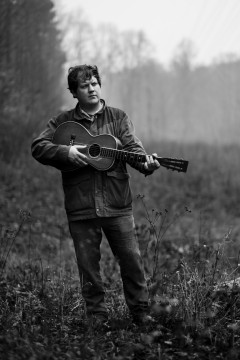 Jake Xerxes Fussell's self-titled solo debut album showcases his folk and blues roots. The Southern Studies alum (MA 2013) says that the album came together fairly easily, with most of the basic tracking done one afternoon at Bruce Watson's studio in Water Valley, Mississippi, with tracking and mixing at Mark Nevers's studio in Nashville.
"All in all it was pretty quick, as far as record making goes, at least by current standards," said Fussell, who sings and plays guitar. It was made easier for him since he knew exactly what 10 songs he wanted on the album, but what was a surprise for Fussell was seeing how everyone contributed in their own way.
"That part was fascinating to watch, and I was really surprised and pleased with the way they all turned out," said Fussell, whose producer was William Tyler. "A lot of people go into the studio with the best intentions and great songs, but the focus gets diverted." Although he said he doesn't have a favorite song on the album, he does like the way the song "Push Boat" turned out.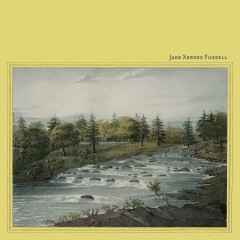 Growing up in Columbus, Georgia, Fussell soaked up the eclectic inspirations all around him, especially from folk and blues singer Precious Bryant, who played Piedmont style guitar. "It's hard to estimate the influence of Precious Bryant on my life and music," Fussell said, who knew her from his childhood. "She was close to my family so we had a personal kind of friendship in addition to playing music together. We traveled together some and had some funny adventures here and there."
When he was a teenager, Fussell would drive to Bryant's home in Talbot County, Georgia, every week and play music with her and her son Tony. "She wasn't a mentor in any formal sense, but we played a lot together, and in order for me to keep up with her musically I had to think quick and watch what she was doing and try to do it myself," Fussell said. "I probably didn't realize it at the time, but that's really the best way to learn and develop as a musician."
In addition to outside factors, there were forces at work as home, too, with his parents Fred and Cathy Fussell. "My parents are both creative, folklorically minded people, so my sister Coulter and I grew up with all of that," Fussell said. "There were all these people dropping by the house all the time. People like Roland Freeman, the photographer and poet from Washington, D.C., and his friend Worth Long, the great folklorist and SNCC activist. And, of course, people like the writer and blues documentarian George Mitchell, and the painter and musician Art Rosenbaum and his wife, Margo, who's a great photographer and banjo player."
When he was around 13 years old, Fussell got into fingerpicking on the guitar. "It came from that initial fascination from hearing great music firsthand. I'm still seeking out what I can, though my interests have probably evolved and changed to some degree, but it's still guided by that initial spark."
Fussell is also at work on a project with blues scholar Scott Barretta, wading through hundreds of Bill Ferris's field recordings for Dust-to-Digital Records, a record label out of Atlanta that specializes in historical anthologies. "I felt that Jake was perfect for the job of going through Bill Ferris's massive archives because I know no one else who has that much experience listening to raw folklore tapes," said Barretta.
Fussell, who spends his days working at Flyleaf Books in Chapel Hill, North Carolina, returns to Oxford to play in the Grove on the UM campus on June 21. The concert is sponsored by the Center and is part of the Summer Sunset Series.