This Q&A by James G. Thomas, Jr. originally appeared in the Fall issue of the Southern Register.
A Q&A with Brian Foster, New SST and Sociology Faculty Member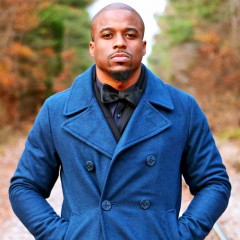 Brian Foster knows his way around the University of Mississippi. In fact, he won the Center's Peter Aschoff Award for the best paper on Southern music in 2011 with his BA Honors thesis, "Crank Dat Soulja Boy: Understanding Black Male Hip-Hop Aspirations in Rural Mississippi." This fall, the Center for the Study of Southern Culture and the Department of Sociology and Anthropology welcome him back as a new assistant professor of sociology and Southern Studies. Foster returns to the university from the University of North Carolina at Chapel Hill where he earned his MA and began his PhD work. Prior to entering UNC-Chapel Hill Foster earned his bachelor's degree from the University of Mississippi.
We spoke with Foster right before the beginning of this semester as he got ready to finalize his syllabus and complete work on his dissertation, "Born by the River, Place-Making, and the 'Post-Blues' Mississippi Delta."
You took your bachelor's degree in African American Studies. What about that field led you to specialize in sociology?
There was something about reading James Baldwin next to Building Houses out of Chicken Legs next to For Colored Girls that pushed me to think more critically about the world, to grow confident in asking questions, to value empirical analysis and creative, effective writing. In some ways, these were the sensibilities that led me to sociology. In other, perhaps more tangible, ways, I just had the great fortune of working with some dope-ass professors [at the University of Mississippi]—folks like Zandria Robinson, Deirdre Cooper Owens, and the late Jesse Scott—who, among so many other things, reinforced to me that the type of work/research/writing that I wanted to do was possible, and needed, within sociology.
Tell me about the Race, Place, and Space class you're teaching this fall.
I grew up in a small town—one of those places with one flashing light, one grocery store, dirt roads, and lots and lots of tradition. I realize, every day I think, how much my experiences then and there shape who I am here and now, and matter for how I experience and make sense of even the most ordinary daily experiences. The Race, Place, and Space course will deal with those dynamics—questions about how place shapes who we are, what we value, and how we attribute meaning to the social world. But, and I think this is more important, we're also going to deal with how place matters for different manifestations of inequality and privilege (for example, environmental racism, residential segregation, rural poverty, and gentrification). In addition to working through some pretty difficult and complex ideas, the class will also ask students to take what they have learned into the field and document some phenomenon of place: a photo essay of a football Saturday at the Grove or a short documentary around food deserts and rural farmers' markets, for example.
Speaking of doing documentary work, do you anticipate any advantages of working with the interdisciplinary Center faculty?
I met most of the Center faculty when I visited campus earlier this year, and they pushed me in some interesting ways on some of my work. It's always fun to hear questions and ideas from folks whose primary vantage point falls outside of sociology. I am most excited about the Center's creative approaches to storytelling. I'm thinking specifically about projects like Mississippi Stories, Living Blues, and the SFA's Gravy. One of my near-term goals is to extend my work, beyond standard article- and book-length projects, to these digital, multimedia platforms.
I know you'd already done some work on a blog called Still Furious and Brave. How did that start? 
The blog was a project that emerged from the shared interests of myself and two of my good friends, Jazmine Walker and Robert Reece (both Mississippi natives and UM alums). We were each at a different professional/academic place in our lives and wanted a platform where we could write about things that were of interest to us—blackness, popular culture, reproductive justice, inequality in Mississippi, comic books—on our own terms, in our own voice, and in a way that played on the strengths of our unique perspectives. For about four years, that's what the blog was. As we all transition to other academic and professional pursuits, we have agreed to end the blog and make the work available elsewhere.