R.L. Burnside at home in Independence, Mississippi, shot by Alan Lomax,
Worth Long, and John Bishop in August, 1978.
Wintersession Course Explores Southern Music
Dr. Darren Grem is currently teaching History 399, a Wintersession course on Southern Music History. He created a playlist representative of different genres, and students are listening to the songs before class. Darren has asked the students to treat each song as a text—just as they would a book or article—with the instruction to "pay attention to not only how it sounds but what those sounds might be trying to convey to us – over either years or decades or centuries – about the people who made them and enjoyed them (or hated them or dismissed them) in their given context."
Below, a sampling from the song list.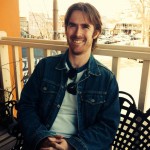 Darren Grem is Assistant Professor of History and Southern Studies. He began teaching at UM in the fall of 2012. His book Corporate Revivals: Big Business and the Making of the Evangelical Right is under contract with Oxford University Press.
Spirituals
Funeral dance and drumming, Akan people, Ghana
Chant with drumming, Mali
"Sink 'em Low," Georgia Sea Island Singers
"Daniel in Lion's Den," Georgia Sea Island Singers
"Throw Me Anywhere, Lord," performed by the Georgia Sea Island Singers
"Before This Time Another Year," performed by the Georgia Sea Island Singers
"Moses, Don't Get Lost," Georgia Sea Island Singers
"O Death," traditional spiritual, performed by Ralph Stanley in a bluegrass style
"John the Revelator," traditional spiritual, performed by Son House
Southern Gospel
"Soar Away" (Sacred Harp/Shape Note Sing) by Cades Cove Primitive Baptist Church
"I'm a Poor, Wayfaring Stranger," performed by the Indian Bottom Association of Regular Baptists
"Oh Lord, I Am Your Child," Elder Otis Jones, Pentecostal sermon and impromptu song, 1936
"This Little Light of Mine," traditional black choir gospel
"This Morning When I Rose," Mississippi Mass Choir
"What a Friend We Have in Jesus," Roberta Martin Singers
"Life's Railway to Heaven," performed by the Gaithers and Oak Ridge Boys
"I'm Gonna Leave You in the Hands of the Lord," performed by Five Blind Boys of Mississippi
"Just a Little Talk With Jesus," performed by the Million Dollar Quartet (Elvis, Johnny Cash, Carl Perkins, and Jerry Lee Lewis)
The Blues
"Terraplane Blues" by Robert Johnson
"Death Letter" by Son House
"My Black Mama" by Son House
"I Asked Her for Water" by Howlin' Wolf
"44 Pistol" by R.L. Burnside
"How Blue Can You Get" by B.B. King
"I'm Bad Like Jesse James" by John Lee Hooker
"Champagne and Reefer" by Muddy Waters with The Rolling Stones
Country/Bluegrass/Hillbilly
"I'm Nine Hundred Miles from Home," by Fiddlin' John Carson
"Little Mary Phagan," by Vernon Dalhart
"No Depression in Heaven" by The Carter Family
"If the River Was Whiskey" by Charlie Poole
"In the Jailhouse Now" performed by Jimmie Rodgers
"Cold Cold Heart" by Hank Williams
"Blue Moon of Kentucky" by Bill Monroe
"Stay a Little Longer" by Bob Wills and His Texas Playboys
"Folsom Prison Blues" by Johnny Cash
Jazz
"Maple Leaf Rag," Scott Joplin
"Dirty Rag," Brownlee's Orchestra
"Margie," Original Dixieland Band
"I'm Going Away to Wear You Off My Mind," King Oliver's Creole Jazz Band
"Creole Song," Kid Ory
"Dr. Jazz," performed by Jelly Roll Morton
"Nobody Knows You When You're Down and Out," performed by Bessie Smith
"Mack the Knife," performed by Louis Armstrong
"So What," Miles Davis
"Part 1: Acknowledgement," John Coltrane
Rock 'n Roll
"I'm Gonna Move to Alabama," Charley Patton
"Rock Awhile," Goree Carter
"Rock the Joint," Jimmy Preston
"Rocket 88" by Jackie Brenston/Ike Turner
"Bo Diddley" by Bo Diddley
"Tutti Fruitti" by Little Richard
"That's Alright, Mama" by Elvis Presley
"Blue Suede Shoes" by Carl Perkins
"Maybelline" by Chuck Berry
"Whole Lotta Shakin' Going On" by Jerry Lee Lewis
Soul/R&B
"I Got a Woman" by Ray Charles
"Change Gonna Come" by Sam Cooke
"Respect" by Otis Redding
"Respect" by Aretha Franklin
"Green Onions," Booker T and the MG's
"Soul Man" Sam and Dave
"Mississippi Goddam" by Nina Simone
"I'm Black and I'm Proud" by James Brown
"Get Up (I Feel Like Being a Sex Machine)" by James Brown
Southern Rock
Allman Brothers, "Whipping Post"
Lynyrd Skynyrd, "Sweet Home Alabama"
Marshall Tucker Band, "Can't You See"
.38 Special, "Hold on Loosely"
Molly Hatchet, "Dreams I'll Never See"
Hank Williams, Jr., "If Heaven Ain't a Lot Like Dixie"
Drive-by Truckers, "Let There Be Rock"
Drive-by Truckers, "Outfit"
Southern Rap
"Do it Like a G.O." by The Geto Boys
"C'mon Babe," 2 Live Crew
"High So High" (screwed version), DJ Screw
"Comin' Out Hard," 8Ball & MJG
"Dirty South" by Goodie Mob
"Player's Ball" by Outkast
"Rosa Parks" by Outkast
"Southern Hospitality" by Ludacris
"The Rain (Supa Dupa Fly)" by Missy Elliott
"Deliverance" by Bubba Sparxxx
"Aw Naw" by Nappy Roots