The Charles Reagan Wilson Fund Campaign Reaches 109%!
Thank you so much to all of the generous donors who supported the Charles Reagan Wilson Graduate Student Support Fund through Ignite Ole Miss. We reached 100% of our goal of $25,000 on Monday, two days before the deadline. The campaign ended last night, and we've now raised $27,346  from 185 donors. Everyone at the Center has enjoyed watching the donor wall grow with the names of friends and alumni–thank you!
The fund will provide research support for students studying the South in the Southern Studies MA program and in the MA and PhD programs of the Arch Dalrymple III Department of History. The fund honors Dr. Charles Reagan Wilson, who retired after teaching 33 years at the University of Mississippi.
If you would still like to give and honor Dr. Wilson, click here. The more we raise, the more students we can support.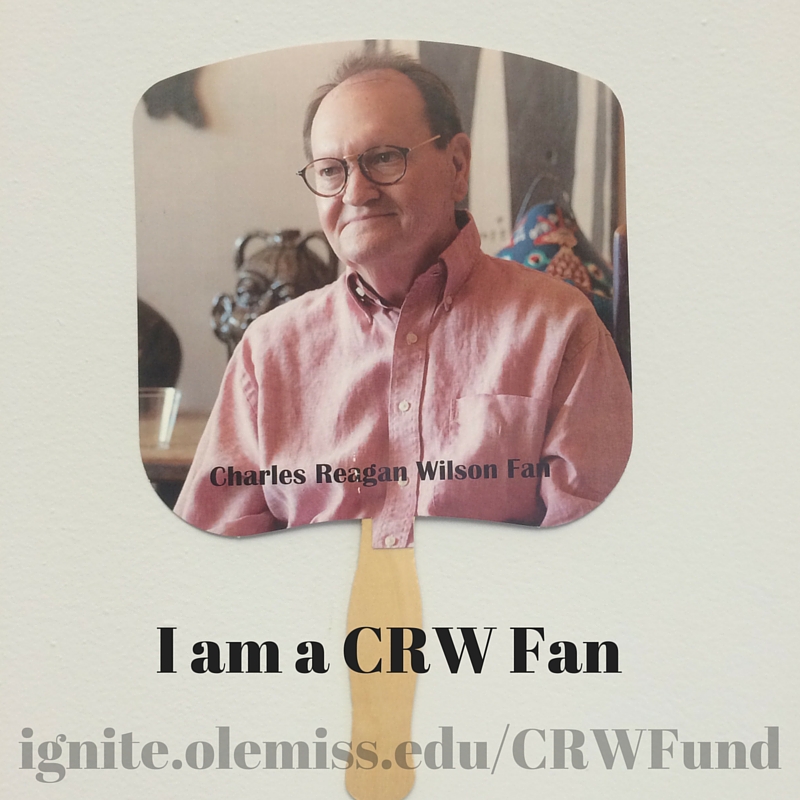 Thank you to our donors*!
*In addition to those listed below, we received 14 anonymous gifts. Several of the contributors below also gave multiple times, which I've indicated after his or her name. This list also includes donors who gave to the Fund when we established it in May 2014. There are several pledges that will add to the total, as well.
Ann Abadie (2)
Helen Abraham
John Agricola
Lance Alexis
Paul Anderson
Marie Antoon
Buddy and Terry Arrington
Linda Arrington
Nancy Ashley
Peter Askew (3)
Teresa  Atkins
Walter Attaway
Scott Barretta
Jack Bass
Sue Beckham
Eunice Milton  Benton
Watt Bishop
Gage Black
Sarah Torian Bland Whitley
Katherine Blount
Lauren Brandon
Amelia Brock
Virginia Brooks
Amanda Brown
Mark and Rebecca Camarigg
Ellie Campbell
Daphne Chamberlain
Courtney Chartier
William Childs
Charles Clark
Chris Colbeck
Angela Cooley
Megan Davis (2)
Meredith Devendorf
Leigh Anne Duck
April Dye
John T Edge (2)
W Ralph Eubanks
Amy C. Evans
James  Foley
Amelia Gamble
Cynthia Gerlach
Jean and Kees Gispen
Susan Glisson (2)
Miranda and Nelson Griffin
Adam Gussow
Joe Hairston
Amelia Hare-Thomas
Andy Harper
Cristen Hemmins
Katherine Henninger
Caroline Herring
Elbert Hillard
Tucker Hood
Matt Hopper
Tom and Dorothy Howorth
Anthony James
Norman Jones
Jamie Joyner
Gloria and Jerry Kellum
Chuck and Helen Kenwright
Kate Kenwright
Tamara King
John Kiss
Frank Kossen
Colby H. Kullman
Mary Beth Lasseter
Mel Lasseter
Rebecca Lauck Cleary
Jen Lawrence Bordelon
Hill Lenderman
Andrew Leventhal
Tom Levis
Ernie Limbo
Allen Lind
Molly Loden
Sally and Dalton Lyon
Xaris Martinez
Ferriday McClatchy
Jillian McClure
Rosie and Steve McDavid
Margaret McGehee
Elizabeth McGehee
Layne McGuire
Thomas McHaney
Patrick McIntyre (2)
Kennard and Jennifer McKay
Neal McMillin
Michael McRee
Ellen Meacham
Thomas Melton
Randall Miller
Joyce Miller
Judith Mitchener
Stephen Monroe
Blount Montgomery
Robin Morris
Hollidae Morrison
Katie and Cody Morrison
Amanda Myers
Nikki Neely Davis
Evan Nooe
Christopher Noone (2)
Debra Northart
Joe Osgoode and Ron Nurnberg
Samuel Olden
Abby Olivier
Ted Ownby (3)
Teresa  Parker
Elizabeth Payne
Jon Peede
Anne Percy
Greg Perkins
Dannal Perry (2)
Otis and Julie Pickett
Nancy Prince
Lee Randall
Thomas Rankin (2)
Renna Redd
Dale and John Reed
Shelley Ritter
Rob Jolly
Jan Robertson
Justin Rogers
Marc Rosen
Aimee  Schmidt
Elaine Scott
Ronzo  Shapiro
Arlene  Sindelar
Carolyn Smith
Cathy (Lowery) Smith
Susan Smith
Bridget Smith Pieschel
Mitchell Snay
Rose and Hubert Spears
Lisa Speer (2)
Meghan Stauts
Patricia Stevens
Lisa Stone
William Sturkey
Eric Sundquist
Hubert Temple
Tonya Thames Taylor
Jimmy Thomas
Joseph Thompson
Minoa  Uffelman (2)
Rachael Walker
Becca Walton
Gerald Walton
Joseph Ward (2)
Albert Way
Brenda West (2)
Deborah West
David Wharton
Mary Margaret White
Sarah Whitley
Brian Wilson
Peter Wood
Mariamne Young