This article, by James G. Thomas, Jr., appears in the Spring 2015 issue of the Southern Register.
Southern Studies Draws Students from Abroad
The Center for the Study of Southern Culture is not unfamiliar to guests and visitors from beyond US borders. Whether they be scholars, students, or enthusiasts of Southern culture in general, the Center welcomes those who come from abroad to attend conferences and symposia, to do research in the Blues Archive or Southern Media Archive, or to enroll in the undergraduate and graduate Southern Studies programs. The first international student to receive an MA in Southern Studies was from China, and students have come from, among other places, the Netherlands, Germany, Jamaica, Belize, England, Ireland, Italy, Canada, and Japan.
To make at least one partnership more formal, the Center for the Study of Southern Culture has recently entered an exchange program with the British Association for American Studies (BAAS), which sends graduating students from universities in the United Kingdom to a handful of schools in the US. Beginning three years ago, the Southern Studies graduate program has participated in that student exchange.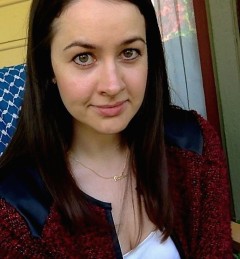 The first student to enter the UM Southern Studies graduate program through the BAAS exchange was Jodie Free, after having taken her undergraduate degree from the University of East Anglia. That same year, in the fall of 2012, classmate and fellow Briton, Rachael Walker, found her way back to the university after having spent 2010­–11 studying here as an undergraduate exchange student. Walker took her bachelor's degree from the University of Birmingham. Both students took their graduate degrees in Southern Studies in 2014.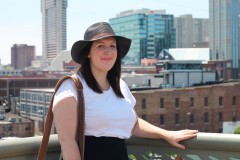 "It was on my exchange year that I was pointed in Dr. McKee's direction to work with her on an independent study on literature tied to the city of New Orleans," Walker said, "and as that work developed I completed a final paper on Vietnamese American literature. Dr. McKee had mentioned the Southern Studies master's program to me, but it wasn't until I returned home in the summer of 2011 that I really started to look at the program and consider graduate school. I felt like I'd only began to touch upon learning about the US South while on exchange, and when I returned home, it definitely cemented that I wanted to know more."
Around the same time that Walker was on exchange here in Oxford, Jodie Free was studying at the University of North Carolina at Chapel Hill. "I had actually visited Oxford once before because I love Faulkner, and I wanted to see Rowan Oak and the places that influenced his fiction," she said. After completing her undergraduate studies, Free enrolled in the Southern Studies graduate program at UM. "The main reason the graduate program appealed to me was because I wanted an interdisciplinary approach and the freedom to study a lot of different topics. I was amazed by the scope and variety of the Center's work."
After taking her master's degree, Free moved back east to work in Spartanburg, South Carolina, as a staff writer for the online lifestyle and culture publication Literally, Darling, a position that is often informed by her having immigrated to the US. "Being an outsider gives you more distance," she said, "which I think makes it easier to ask questions about what is natural and what is constructed. The South is so different from where I grew up; I was constantly curious about why and how certain beliefs and trends came to be. I felt like I was in a unique position, as someone who was European and English-speaking, well educated about the South but not completely part of it myself. I actually just wrote about this in an article for Literally, Darling, "Being a White Western Immigrant in the United States."
Free also volunteers for two Spartanburg, South Carolina, nonprofits—Partners for Active Living, a community health organization, and the Hub City Writers Project, a literary press/independent bookstore where she teaches creative writing workshops for local teenagers.
After taking her graduate degree, Walker remained in Oxford, working on the UM campus as a social media marketing assistant in the Division of Outreach and Continuing Education. Though she is returning to live in the United Kingdom at the end of May, she said her extended time here at UM has added clarity to what she would like to do next: "My experience in the Southern Studies program and at the University has vastly helped shape what I want to do upon returning home. I would like to work in international higher education, which I know seems like a loose tie to Southern Studies, but being in the program and at the University opened up my understanding of the world. I feel like I had a more global experience here than I did during my time at my undergraduate university."
Despite Walker and Free having matriculated from the university, the British perspective is not absent from the Southern Studies program. First-year graduate student Sophie Hay took a route to the program similar to that of both Free and Walker: she spent a year at the University of Mississippi as an undergraduate exchange student from the University of Birmingham and entered the Southern Studies program as a British Association of American Studies exchange student.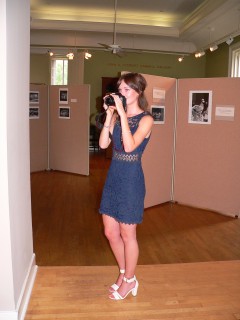 Like Free and Walker before her, the pull of Oxford and the university were irresistible. "My undergraduate exchange year here gave me an insight to the complexity of the Deep South and submerged me in its unique and compelling culture," she said. "The history and literature classes I took at Ole Miss as an undergrad inspired me to write two Southern-based dissertations when I returned to my home university—one that assessed Richard Wright's protest fiction and one that discussed the dissonance between the portrayal of and the actual role of Southern black women in the civil rights movement. Back home I was still drawn to the South and felt that there was much more I wanted to learn about the region. Of course, there was no better place to study the South than at the Center for the Study of Southern Culture, so I applied for the master's program."
While being a native Southerner would seem to have certain advantages in a program that focuses on Southern culture, Hay has found that investigating the American South from the removed perspective of a foreign culture has benefits of its own: "I think having an outsider's perspective means that you pick up on things that natives might take for granted. My outsider's point of view has helped me articulate a transnational connection between the South and the UK in class discussions about the Global South."
Three years ago, Shanghai, China, native Xiang Xu entered the program with a strong interest in old-time country music. Known as Bob, he completed the MA degree in 2014 and is now a PhD student in the UM History Department.
And the co-winner of this year's Peter Ashoff award for best paper in Southern music is Yaeko Takada, a native of Japan who came to Southern Studies to understand and write about Southern music. Eko's prize-winning paper studies the roots of ragtime, the likely subject of her thesis.
In-class conversations about the Global South will be informed by another exchange program in the fall of 2016. Next year the Southern Studies graduate program will embark upon a partnership with the Catholic Institute of Paris, which is sending Gregory François, a graduate student in American Studies, to the University of Mississippi to study the blues.