This article, by Andria Lisle, originally appeared in the 2008 Music volume of The New Encyclopedia of Southern Culture.
Southern Hip-Hop Week: Day 3 – Hip-Hop and Rap  from the NESC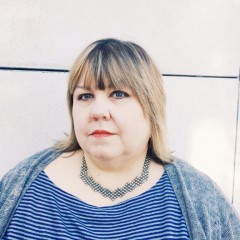 Beginning in the late 1980s, southern hip-hop and rap effectively trumped contemporary R&B as the foremost popular urban music trend. A regional response to the then-burgeoning East and West Coast hip-hop scenes, purveyors of southern rap simultaneously surfaced in cities ranging from Atlanta and Miami to New Orleans, Memphis, and Houston. Although many older music fans downplay the significance and artistic credibility of the genre, southern rap—created by an MC, or rapper, and a DJ, or producer—has emerged as a primary motivator in the youth market, influencing fashion, language, the mass media, and other facets of commercial and popular culture. Similarly, southern rap artists have become avatars of pop culture in their own right, receiving consistent radio airplay, crossing over to film and television roles, and emerging as popular personalities in the marketing and advertising fields.
A linguistic offspring of blues music, books by "black consciousness" authors (for example, Donald Goines, Eldridge Cleaver, and Iceberg Slim), traditional oral "toasts" (as documented in Bruce Jackson's Get Your Ass in the Water and Swim Like Me: African-American Narrative Poetry from the Oral Tradition), and poetry slams, combined with beats and musical samples lifted from soul, rhythm and blues, and pop songs, southern rap is popular with white, black, and Hispanic listeners. Yet unlike soul music, which was predominately shaped by whites within the popular music industry, southern rap—and its East and West Coast counterparts—is primarily a black-dominated business, from performing and producing basic tracks to distributing and promoting the finished product. Moreover, southern rap has been largely released on independent record labels, unlike commercial East and West Coast rap music. Emblematically utilitarian photographs and no-frills graphics dominate LP or CD cover art, and liner notes are minimal for southern rap albums, which are often self-produced in limited runs.
While southern hip-hop groups such as Arrested Development and OutKast have a reputation for benign, vaguely political- or party-oriented lyrics, southern rap—also commonly referred to Dirty South rap—often includes braggadocios and innuendos pertaining to drug use, criminal activity, and sexual conquests. Southern rappers employ a simple, rhythmic delivery propelled by the drum track, which utilizes quick snare beats and a hi-hat sound, usually created on a drum machine. Archetypal hit songs, such as the Ying Yang Twins' "Salt Shaker" and David Banner's "Like a Pimp," initially gained popularity in strip clubs before receiving radio airplay and crossing over to the dance club scene. Many southern rappers regularly send "shout-outs" to fellow rappers, record labels, and neighborhoods, popularizing urban areas such as Memphis's Orange Mound community or New Orleans's Ninth Ward, and advertising additional products via "skits" performed between songs on their CDs.
Miami Bass is one important subgenre of southern rap. The distinctive bass-heavy sound, which combines fast-tempo modern electronic dance music and sustained kick-drum beats and cymbals (produced using a Roland TR-808 programmable drum machine), mixed with samples of funk music as purveyed by musicians such as guitarist Willie "Little Beaver" Hale (a native of Forrest City, Ark., and Miami resident since the 1960s), is predominant in south Florida cities including Miami, West Palm Beach, and Fort Lauderdale, particularly in poor urban communities such as Liberty City. 2 Live Crew, led by Luther "Luke Skyywalker" Campbell, brought the Miami Bass or "booty rap" tradition to the national music charts via their 1989 album Nasty as They Wanna Be and the song "Me So Horny," which was banned in many urban areas because of its sexual content. According to All Music Guide critic Richie Unterberger, James "Maggotron" McCauley is "the father of Miami Bass," although some aficionados argue that Amos Larkins's productions of Double Duce's "Commin' in Fresh" and MC A.D.E.'s "Bass Rock Express," both released in 1985, came first. Other popular Miami Bass-influenced southern rap artists include Disco Rick, TrickDaddy, and Cubano rapper PitBull.
New Orleans Bounce is another formidable southern rap subgenre. Identifiable by its call-and-response choruses, typically lain over samples called either the Triggaman beat or the Brown beat, and influenced by the brass band second-line dances ubiquitous to New Orleans, Bounce surfaced in the late 1980s, when MC TT Tucker, DJ Jubilee, Katey Red, MC Gregory D, and DJ Mannie Fresh began recording tracks like "Monkey on a Stick" and "Buck Jump Time." Many Bounce songs were built off their predecessors, including DJ Jimi's "Bitches (Reply)." Based around the definitive chorus "Suck my pussy for a pork chop," the song was a response to DJ Jimi's own "Where They At," itself a radio-friendly take on MC TT Tucker's "Where Dey At," which included the lyric "Fuck David Duke," a disparaging remark about Louisiana's then-perennial political candidate, a neo-Nazi and proponent of the KKK.
In the 1990s two predominant New Orleans rap labels emerged: Master P's No Limit Records and Cash Money Records, co-owned by Ronald "Slim" Williams and his younger brother, Brian "Baby" Williams. Percy "Master P" Miller, a product of the Calliope housing project located in New Orleans's Third Ward, sold 250,000 copies of his first two records, The Ghetto's Tryin' to Kill Me! and 99 Ways to Die without national distribution, and No Limit went on to earn $400 million by 1999. An entrepreneur who studied business in college, Miller invested his earnings in real estate, fast-food franchises, sports management, magazine publishing, and urban-oriented businesses like car detailing, shaping No Limit into a lifestyle-branding conglomerate. He was also a pioneer within the southern rap industry, signing a contract with Priority Records as an imprint, retaining ownership of his own product, and producing hit records on fellow New Orleans rappers like Mystical and the late Soulja Slim (gunned down in his mother's yard in the Eighth Ward in November 2003), as well as direct-to-video releases like I'm 'Bout It, which sold an unprecedented 500,000 copies. His brother, rapper C-Murder, was indicted on murder charges in 2002 and remains on house arrest; his son, Lil Romeo, is a popular actor with his own show on the Nickelodeon cable television network.
Begun in 1992, Cash Money Records sold hundreds of thousands of records on New Orleans's underground scene under the tutelage of legendary producer Mannie Fresh before signing a $30 million pressing and distribution deal with the Universal conglomerate in 1998. Home to artists such as Kilo-G and Lil' Slim, the label's most popular group, the Hot Boys, was comprised of individual MCs Juvenile, B. G., Lil Wayne, and Turk, all residents of New Orleans's notorious Magnolia housing project. Citing financial mismanagement, B. G. and Juvenile left Cash Money. B. G. formed his own Chopper City Records, but Juvenile returned to the label to release 2003's Juve the Great, a triple-platinum selling album. In the aftermath of Hurricane Katrina, which struck New Orleans and the Gulf Coast in 2005, many New Orleans rappers left the city, although in the months since, many have recorded songs criticizing the federal government's reaction to the crisis, such as Lil Wayne's "Georgia Bush," Juvenile's "Get Ya Hustle On," and Fifth Ward Weebie's Bounce throwback, "Fuck Katrina."
Houston, Tex., is home to rap pioneers the Geto Boys (Scarface, Bushwick Bill, and Willie D), whose self-titled 1990 album, released on Def American Records, was one of the most violent releases of the decade, criticized for its characterizations of rape and necrophilia. Other Houston rappers, such as DJ Screw, Lil' Flip, Lil' Keke, and UGK (short for Underground Kingz), spearheaded the southern rap subgenre Chopped & Screwed, created by mixing multiple copies of the same record, slowed down via the pitch shift control on a manual turntable, causing echo and flanging effects. In the early 1990s, the late DJ Screw (he died of a heart attack following codeine use in 2000) popularized the style via mix tapes sold to fans of "purple drank" (codeine laced with Promethazine, a hypnotic) who liked to listen to Chopped & Screwed versions of hit rap singles as they took drugs. In recent years, southern rappers of all styles, including Jackson, Mississippi-based rapper David Banner and Memphis collective Three 6 Mafia, have released Chopped & Screwed versions of earlier albums, tapping specialist DJs to create slowed-down remixes of their hits. Houston has also provided a launching pad for underground rappers like Memphis's 8Ball & MJG, who moved west in 1992 and emerged with Comin' out Hard, which sold more than 100,000 copies for Texas independent Suave House Records, before ultimately signing to Bad Boy, P. Diddy's Warner Music Group subsidiary. Today, the independent Swishahouse label, home to southern rap stars Mike Jones, Chamillionaire, Slim Thug, and Bun B, dominates the Houston scene.
Meanwhile, in Memphis in the late 1980s, rappers such as Pretty Tony, W-Def, Radical T, Al Kapone, Lord Infamous, and 8Ball & MJG, along with the rap collective Three 6 Mafia, which features north Memphis MCs DJ Paul, Juicy J, and Project Pat, initiated a style of southern rap called buck or gangsta rap. Gangsta Pat, the son of soul music drummer Willie Hall (Stax Records, The Blues Brothers), was the first Memphis rapper to sign a major label deal, releasing #1 Suspect on Atlantic Records in 1991. A year later, FreakMaster had the first Memphis rap single to make it onto the Billboard charts, "Gimme What You Got (for a Pork Chop)." Then and now, the Memphis rap scene has been centered around several hotspots, including Club Memphis and the Pressure World car wash (immortalized on Three 6 Mafia's "Don't Cha Get Mad"), both in the Orange Mound neighborhood and at locations in north Memphis and the outlying suburb of Frayser, often referred to in local vernacular as "the Bay." At Memphis rap concerts, audience members often buck dance or gangsta walk, a circular dance purportedly invented by a rap collective called the Bovan Family at Club No Name in the late 1980s and still popularized via underground hits like Al Kapone's "Get Crunk, Get Buck" and II Black's "Buck Jumpin'."
Despite the success of the made-in-Memphis rap-themed movie Hustle & Flow, released in 2005, and its subsequent Golden Globe and Academy Award musical wins (for Kapone's "Whoop That Trick" and Three 6 Mafia's "It's Hard out Here for a Pimp," respectively), most MCs on the current Memphis rap scene continue to toil in the underground, self-releasing CDs and parlaying regional hits into unaccounted sales at bodegas and car washes. Memphis's biggest underground rappers, such as Criminal Manne, Mac E, and former Three 6 Mafia cohort Gangsta Boo, have a local cult following in Memphis but remain virtually unknown beyond the city limits. Other Memphis rappers, including 8Ball & MJG and Kinfolk Kia Shine, have traveled to cities like Houston and Atlanta to pursue record deals and fame before returning home platinum-selling stars. Unlike those urban centers, major labels have made few inroads into the Memphis scene, which is dominated by music distributor Select-O-Hits, a company known for gospel, blues, soul, and now rap. Select-O-Hits also unconsciously influenced the growth of southern rap in Memphis and New Orleans, by distributing "Drag Rap" (alternately called "Triggaman") by New York rappers the Showboys, which was sampled for many Bounce, gangsta walk, and buck jump tunes.
Although the Crunk subgenre has its roots in Memphis, its most popular practitioners, including Lil Jon, Bone Crusher, and the Ying Yang Twins, hail from Atlanta. Coined by combining the words "chronic" (referring to marijuana use) and "drunk," the phrase Crunk entered the urban lexicon when Three 6 Mafia released "Tear Da Club Up '97," a Top-50 hit on the national rap charts. Six years later, the trend was still going strong, as evidenced by hits such as Lil Jon's "Get Low," the Ying Yang Twins' "Salt Shaker," and Bone Crusher's "Never Scared." Even nonsoutherners jumped on the bandwagon, via hits like Usher's "Yeah" and Ciara's "Goodies," both produced by Lil Jon. Crunk's hallmarks, which include hoarse vocals, rowdy, crowd inciting lyrics, and a rhythmic, Bounce-derived four-bar beat, helped make the rap style popular in dance clubs. While an annual all-star concert called Crunkfest is held in Memphis every summer, Lil Jon, his group the Eastside Boyz, and likeminded followers on the Atlanta scene rule the Crunk genre with songs like "Crunk Rock," "Kings of Crunk," "Get Crunk," and "Crunk Juice."
Atlanta is also home to many noncrunk artists, such as southern rap pioneers OutKast (featuring Big Boi and Andre 3000), Grammy Award-winning girl group TLC, and Goodie Mob, as well as superstars like producers Jermaine Dupri and Jazze Pha, and Chris "Ludacris" Bridges, who has parlayed his career as a southern rapper into Hollywood fame via his roles in Academy Award winning movies Crash and Hustle & Flow. Relative newcomers, such as T. I. and Yung Joc, rap about drug dealing and life in their low-income neighborhoods Bankhead and College Park, both called "the Trap" in street parlance. Popular Atlanta studios include Stankonia and the Dungeon, home to the Dungeon Family Collective, OutKast, Bubba Sparxxx, and Goodie Mob, as well as lesser-known southern rap artists Witchdoctor and Cool Breeze. In 2006 former Goodie Mob vocalist Cee-lo Green partnered with fellow Georgian DJ Danger Mouse to form the popular hip-hop duo Gnarls Barkley. The FBI caused a stir within the Atlanta hip-hop scene in early 2007, when Gangsta Grillz mix tape creator DJ Drama and members of his collective, the Aphilliates Music Group, were indicted on RICO charges for failing to pay publishing royalties on mix tapes, despite the fact that many major labels were paying the Aphilliates to create underground hits for their artists.
Although there have been no feuds on the level of the West Coast-versus-East Coast Tupac Shakur-Biggie Smalls rivalry, the southern rap scene is rife with violence. New Orleans rap artist Soulja Slim was murdered at point-blank range, while T. I., star of the film ATL, has been the target of numerous altercations, including a gun battle in Cincinnati, Ohio, that left his friend Pliant Johnson dead. Drug abuse, ranging from social marijuana use to full-blown cocaine and heroin addictions, also mars the scene, which has popularized the misappropriation of over-the-counter cough syrup via songs like Three 6 Mafia's "Sippin' on Some Syrup" and Project Pat's "Purple." Many popular southern rappers, including Project Pat, C-Murder, Msytikal, and Turk, have served, or are serving, extended prison terms for felonies ranging from robbery and drugs and weapons charges to rape, assault, and murder convictions.
In 2007 even hardcore fans began voicing their concerns about the misogyny and violence that plagues the southern rap industry, most notably in the PBS documentary film Hip-Hop: Beyond Beats and Rhymes. Nevertheless, the genre continues to dominate, influencing even the automobile industry (via customized wheel rims, car shows, and Donks, urban slang for modified Chevrolet Impalas), and inspiring television advertisements for products like Kentucky Fried Chicken and movies such as ATL, Hustle & Flow, Idlewild, and Knights of the City.
Andria Lisle
Memphis, Tennessee
Scott Bedja, Murder Dog Magazine (November 2006); Black Dog Bone, Murder Dog Magazine, vol. 11 no. 1; Vladimir Bogdanov, Chris Woodstra, Stephen Thomas Erlewine, and John Bush, All Music Guide to Hip-Hop: The Definitive Guide to Rap and Hip-Hop (2003); Jeff Chang, Can't Stop, Won't Stop: A History of the Hip-Hop Generation (2005); Nik Cohn, Triksta: Life and Death and New Orleans Rap (2005); Greg Davenport, Murder Dog Magazine, vol. 13, no. 2; Jim Fricke, Charlie Ahearn, Yes Yes Y'All: The Experience Music Project Oral History of Hip-Hop's First Decade (2002); Tony Green, Vibe Magazine (August 2003); Bruce Jackson, Get Your Ass in the Water & Swim Like Me: African-American Narrative Poetry from the Oral Tradition (2005); Andria Lisle, Wax Poetics (December 2006); Tamara Palmer, Country Fried Soul: Adventures in Dirty South Hip-Hop (2005); Roni Sarig, Vibe Magazine (December 2003); Samantha M. Shapiro, New York Times Magazine (February 2007); John "J-Dogg" Shaw, StreetMasters Magazine (2006); Vibe Magazine, The Vibe History of Hip-Hop (1999); Carlton Wade, The Source (December, 2003); Papa Wheelie, Stylus Magazine (August 2005).