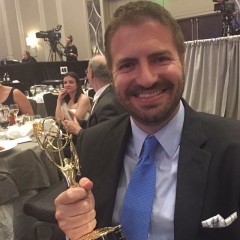 The Toughest Job: William Winter's Mississippi, a film by Matthew Graves of the Southern Documentary Project, won an Emmy for best historical documentary from the Southeast division of the National Academy of Television Arts and Sciences. The awards were announced on Saturday, June 6 in Atlanta, and Graves attended the ceremony.
"It was such an honor to be recognized in that way and to have the opportunity to stand on stage and accept the award for everyone at SouthDocs," said Graves. "It was a spectacular night and I'm so grateful that I got to experience it with my beautiful wife Melissa!"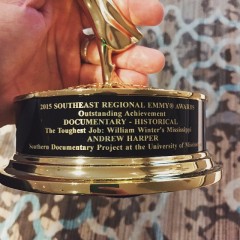 Andy Harper, Southern Documentary Project director and a producer of the film, noted that SouthDocs was honored to win such a prestigious award. "We are proud of the work of SouthDocs and the Center to tell southern stories through film. We're especially dedicated to telling the complicated story of Mississippi and Mississippians and the Emmy tells me that we are on the right track."
The film, executive produced by Harper and David Crews, had its broadcast premiere in October 2014 on Mississippi Public Broadcasting. It has since been screened at the Clinton Presidential Library in Little Rock, Arkansas, the Newseum in Washington, D.C., and at the Overby Center for Journalism and Politics at UM. SouthDocs hopes to have the film distributed to other public television stations around the country.

Thanks to friends at the Mississippi Department of Archives and History for assistance with archival materials, and to the staff at Mississippi Public Broadcasting. Special thanks to filmmaker Edward Ellington, who oversaw the premiere broadcast.