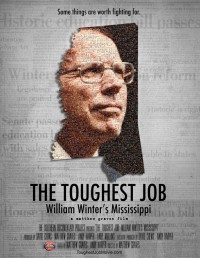 The Toughest Job: William Winter's Mississippi, a documentary directed by Matthew Graves for the University of Mississippi's Southern Documentary Project (SouthDocs), chronicles the life and career of Mississippi's 57th Governor William Winter and his fight to pass the 1982 Education Reform Bill.
Broadcast Premiere October 2
Mississippi Public Broadcasting will air the premiere statewide broadcast of the film on Thursday, October 2, at 8pm. Check local listings.
MPB will also host a community screening on Thursday, October 2 in the courtyard at MPB. A public reception with Governor Winter in attendance will begin at 6pm, with the premiere of the film at 7pm. The event is free and open to the public. Refreshments will be provided by Hal and Mal's and Lazy Magnolia Brewing Company. The screening will be outdoors in the MPB courtyard, 3825 Ridgewood Road, Jackson, MS. In the case of inclement weather, the screening will be moved indoors to the MPB auditorium.
About the Film
The Toughest Job emphasizes William Winter's role as a leader in education reform, economic development, and racial reconciliation. Utilizing materials from the Mississippi Department of Archives and History and interviews with Governor Winter, Elise Winter, Vernon Jordan, Dick Molpus, Myrlie Evers-Williams, Ray Mabus, Reuben V. Anderson, Charles Overby, President Bill Clinton, and others, the film examines the political life and policy accomplishments of one of Mississippi's most progressive leaders.
The 1982 Education Reform Bill, which, among other things, established public kindergartens in the state, was a landmark legislative act in terms of both civil rights and economic development. William Winter "understood that education was essential for Mississippi to flourish in the future," says Reuben V. Anderson in the film. President Bill Clinton, who was governor at Arkansas at the same time Winter served Mississippi, talks of Winter's "personal strength and political openness" and courageous dedication to creating opportunity for the state's children.
The film highlights the challenges of generating bipartisan change in a contentious political environment, a timely message for current political leaders. Executive producer and former gubernatorial advisor David Crews observed, "In an age of shrill, often gridlocked politics, we need more leaders with Winter's courage, character, resolve and constructive leadership. This film portrays a rich, tumultuous period of history while documenting the accomplishments of a rare leader willing to tackle tough, vexing, important issues."
Vernon Jordan notes the legacy of racial tensions in the state and Winter's approach. "That kind of courage, that kind of willingness to speak out, to stand up, to take a position contrary to the consensus of white people was quite extraordinary." Winter played a key role in Clinton's "One America" initiative to start a national conversation on race, bringing the only deep-South public forum to the University of Mississippi. The legacy of this forum is the William Winter Institute for Racial Reconciliation at UM, which strives to end all difference-based discrimination through community building, youth engagement, and scholarship.
"It's been a remarkable challenge attempting to condense a whole life's worth of passion, bitter defeats, and momentous victories into an hour-long documentary but I feel very satisfied with what we've created," said filmmaker Matthew Graves. "To me, it's a thrilling story of perseverance and leadership and is truly a testament to what is possible in this state."
For Southern Documentary Project director Andy Harper, this film fits perfectly into his mission of having Mississippians telling Mississippi stories. "I think it is vitally important that we document the stories of leaders like William Winter," says Harper. "Governor Winter felt a moral obligation to provide all Mississippians an adequate education and he worked tirelessly towards that end. It is our obligation to tell his story."
View a trailer on the film's website, toughestjobmovie.com.
View a PDF of the film press release.
About Filmmaker Matthew Graves
Matthew Graves is an award-winning filmmaker who has produced, written, shot, scored, edited, and directed over twenty films, including documentaries Rebels: James Meredith and the Integration of Ole Miss, which chronicled the events leading up to the enrollment of James Meredith and the violence that broke out on campus in 1962 and The Debate Starts Here about the 2008 Presidential Debate at Ole Miss and the staggering amount of work done to prepare for the event. Matthew's narrative films include The Show Must Go On, Dummy, and The Embalming. In addition to his filmmaking duties at the University of Mississippi, Matthew is also an Adjunct Professor of Cinema Production.
About the Southern Documentary Project (SouthDocs)
The Southern Documentary Project, an institute of the Center for the Study of Southern Culture at the University of Mississippi, is based in Oxford. SouthDocs produces short and feature length documentary films as well as radio programs such as "Highway 61″ and "Sounds of the South." The Southern Documentary Project also trains the next generation of storytellers by teaching and advising students in the Southern Studies academic program and the Cinema minor program. Learn more at southdocs.org.