Save the Date for the 23rd Annual Oxford Conference for the Book: March 2-4, 2016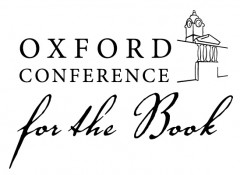 The 23rd Annual Oxford Conference for the Book (OCB) is set for March 2–4, 2016, to bring together fiction and nonfiction writers, journalists, poets, publishers, teachers, and students for three days of readings, lectures, panels, workshops, and social events that celebrate the written word.
Programs will include sessions on Southern foodways, Appalachian studies, poetry, creative nonfiction, Mississippi and Southern history, gender studies, and biography, among other topics. OCB partner Square Books will host several sessions of author readings and conversations.
Those authors already scheduled to appear at the conference include Margaret McMullan (Every Father's Daughter and Aftermath Lounge); Minion K. C. Morrison (Aaron Henry of Mississippi: Inside Agitator); Dennis Mitchell (A New History of Mississippi); poets Richard Katrovas, Rebecca Morgan Frank, Caki Wilkinson, Jericho Brown, Katie Peterson, Beth Ann Fennelly, and Derrick Harriell; Robert Gipe (Trampoline); Mark Essig (Lesser Beasts: A Snout-to-Tail History of the Humble Pig); and Pulitzer Prize winners Sheri Fink (Five Days at Memorial) and Edward Larson (Summer for the Gods: The Scopes Trial and America's Continuing Debate over Science and Religion).
The slate of speakers is not yet complete. The complete program will soon be posted on the Center's website. The conference is open to the public without charge. Reservations and advance payment are required for the opening-night gala dinner/cocktail reception on the evening of Wednesday, March 2 ($50).
Thacker Mountain Radio will have a special OCB show at the Lyric Theater on the Oxford Square at 6:00 p.m. on Thursday, March 3. Square Books will host book signings each evening for the authors presenting that day. The Wednesday and Friday signings will be at Off Square Books, and the Thursday signing will be at the Lyric Theater, before and after Thacker Mountain Radio.
The Children's Book Festival (CBF) will take place on Friday, March 4, at the Ford Center for Performing Arts. The goal of the CBF is to give each area first and fifth graders a book of his or her own which they will read along with classmates and their teacher. Committees made up of local school librarians, teachers, and representatives from the Lafayette County Literacy Council (sponsor of the first grade), Junior Auxiliary (sponsor of the fifth grade), and Square Books, Jr. choose the books for each grade. During the OCB, the authors will present programs for the children at the Ford Center. We'll announce the authors for the 2016 festival later this fall.
The next Southern Register will have a detailed schedule, a complete list of authors, and more information about programs. Call 662-915-3374, visit www.oxfordconferenceforthebook.com, or e-mail conference director James G. Thomas, Jr. at jgthomas@olemiss.edu for more information or to be added to the OCB mailing list.