This story, by Rebecca Lauck Cleary, originally appeared in the Southern Register.
Sarah Dixon Pegues, the "Heart of the Center," Retires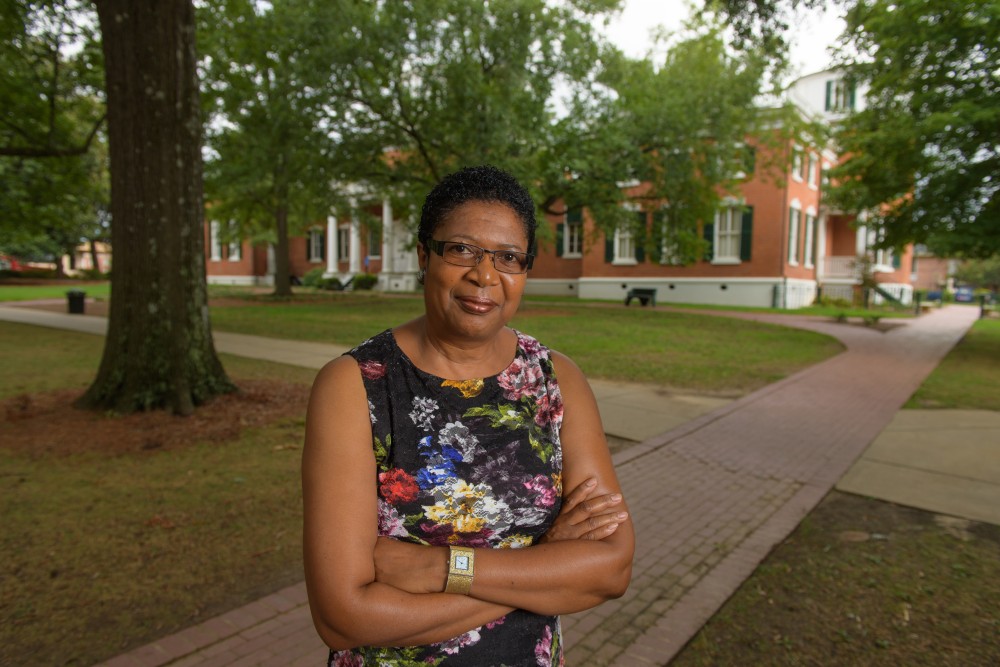 After being a constant in Barnard Observatory for thirty-five years, Sarah Dixon Pegues will retire from the Center for the Study of Southern Culture. As the Center's administrative assistant since 1980, she handles all financial matters, including budgets, payroll, travel requests, procurement, and purchasing, as well as processing grant applications and helping with reports for externally funded projects.
An Oxford native, Pegues earned her BS from Mississippi State University. After finishing college, she job-hunted all that summer, and the Center was the last of six interviews she had with various university departments. "After meeting (former director) Bill Ferris and hearing about the mission and projects of the Center, I felt this would be a very interesting place to work, and it has been," Pegues said.
Ferris, now the senior associate director at the Center for Study of the American South and Joel R. Williamson Eminent Professor of History at the University of North Carolina at Chapel Hill, said Pegues has been essential to the Center's growth over the years. "Sarah is truly the heart of the Center," he said. "For over thirty-five years she has kept a watchful eye on Center staff and their programs, and she made sure their finances were in order. I was blessed to work with Sarah during my eighteen wonderful years at the Center. She is a true star for all who know her."
During her three and a half decades on campus, she has seen many shifts in the Center and UM. "The biggest change has been the growth of the Center—from the number of BA and MA students to the number of faculty and staff and outreach projects," she said. "The biggest change at the university is how it has grown in the number of programs, projects, and buildings. When I first started in 1980 you could name the departments and you knew where they were located. Now there are tons of departments, institutes, and research centers. I would be a terrible tour guide!"
Ted Ownby, director of the Center, said that Pegues knows how to get things done.
"I've said that Southern Studies tends to attract people who want to do things their own way and want to break the rules . . . or never learn them," said Ownby, who has worked with Pegues since 1988. "People like that can sit around theorizing and redefining all day, but we need someone like Sarah to make sure we get our bills paid. I should also mention that she's the master of a rare form of communication in universities: the one-line, completely clear and successful email message."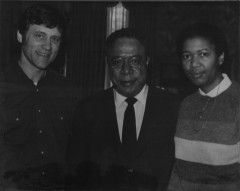 Great people, including her former bosses and current colleagues, are one of the best parts of working at the Center, she said. "I've even met a few celebrities along the way. I still have the photo I took with Alex Haley, author of Roots, from when I first started!" That memory, along with seeing Ferris play his guitar and sing the blues, are some of her favorite recollections.
"Sarah's presence has added to the spirit and life of the Center," recalled associate director emerita Ann Abadie. "She will be greatly missed after her retirement, but her legacy will endure for those who knew her and for those who merely enjoy the results of her service."
Professor emeritus Charles Reagan Wilson, who joined the Center as managing editor of the Encyclopedia of Southern Culture a few months after Pegues was hired, said the Center is blessed by her presence. "In the early 1980s, it was a lively place, full of interesting people experimenting with ideas and projects about the South," Wilson said. "Sarah was always the down-to-earth one who assisted us with managing the finances of projects that often didn't have enough financing, and she always figured out easy ways to help and keep on budget."
Throughout Wilson's directorship of the Center from 1998 to 2007, he appreciated her professionalism and good spirits. "I always thought I detected a half-skeptical eye to some of our wilder ideas, but she kept us grounded," he said.
It's not all numbers for Pegues, though. "I love to read romance and romantic suspense novels, listen to music—as everyone knows when they pass by or enter my office—and hang out with family and friends," she said.
Her last official day is December 31, 2016.
Rebecca Lauck Cleary