Below, a preview of the October – November Living Blues from Publications Manager Mark Camarigg.
October – November Living Blues OUt Now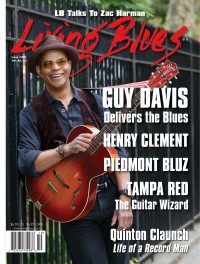 The October 2015 issue of Living Blues features a cover story on Guy Davis, son of actors Ossie Davis and Ruby Dee. In this revealing interview, Davis sees his music as an extension of his ancestry, reflecting the broad African American experience. Other interviews include a talk with California-based Henry Clement reflecting on his 60-plus year career stretching back to his work as a studio musician for the famed Excello label and part one of a two-part interview with producer and songwriter Quinton Claunch who helped found the Memphis-based Goldwax and Hi Record labels.
The issue also includes brief chats with artists Jimmy Johnson and Zac Harmon, extensive CD reviews, including both new releases and reissues, obituaries, and the Living Blues Radio Charts.
Digital and print subscriptions to Living Blues start at just $18 and are available at www.livingblues.com.