This article and interview, by James G. Thomas, Jr., will appear in a future Southern Register.
New Book of Essential 1960s Blues Interviews Coedited by Living Blues Staffer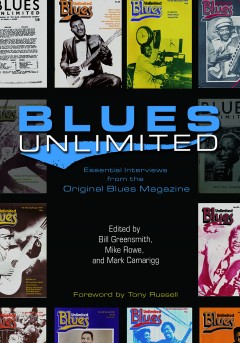 In 1963, the magazine Blues Unlimited was instrumental to the British blues revival by giving voice to famous, forgotten, undiscovered, or underappreciated blues musicians from the US. The magazine set the standard for documenting blues history through the use of long-form interviews, and in many ways it paved the way for magazines such as Living Blues.
Mark Camarigg is the publications manager and former assistant editor for Living Blues magazine. While there is always a deadline looming at Living Blues, he makes time to chair the Center-sponsored Blues Symposium at the University of Mississippi, and recently he coedited, with Bill Greensmith and Mike Rowe, a collection of interviews from Blues Unlimited. The book is Blues Unlimited: Essential Interviews from the Original Blues Magazine.
In between LB deadlines he had a few moments to sit down with us to discuss his newest project.
Southern Register: Tell us a bit about the new book.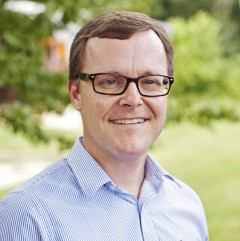 Mark Camarigg: Blues Unlimited is an anthology of interviews with blues musicians from the British magazine Blues Unlimited. There are over twenty interviews with artists such as James Cotton, Fontella Bass, Johnny Otis, Snooky Pryor, and Roy Brown, and a few essays as well.
Blues Unlimited published from 1963 until 1987. The magazine wasn't widely available in the US, so most of these interviews will be new to an American audience. The interviews are grouped regionally—West Coast, Texas, Chicago, Mississippi, and so on—and we also include a couple of interviews with some influential record executives.
One of the exciting things about the book is the scope of the material. It covers the St. Louis blues scene in the late twenties and thirties, Detroit and Chicago in the thirties and forties—a lot of information that will be new to folks who never read the magazine forty-plus years ago. Having access to the original BU photo archives, we also have a number of heretofore unpublished photos in the book.
Southern Register: How did you get involved in the project?
Mark Camarigg: I became aware of the magazine when I was researching at the Blues Archive here on campus. I was researching the origin of the phrase "soul-blues," and Jim O'Neal suggested I'd find it in Blues Unlimited. I started reading every issue and was amazed at the information I found: the first descriptions—ever—of Son House, Robert Johnson's death certificate, and early concert reviews of Little Walter, Buddy Guy. It was fascinating.
I knew the magazine had limited reach here in the US and that blues fans would enjoy reading these interviews. I also knew getting the rights to reprint them would be important, so I tracked down a few of the original writers and editors, including my coeditor Bill Greensmith, who had possession of the magazine's archive and photos.
The collaboration just took off from there. Bill and I both recognized the importance and influence of the work by the original founders, Mike Leadbitter and Simon Napier. Of course, blues researchers are aware of the magazine and have cited it in footnotes, but it was important to us that they get their due. Leadbitter flew from London to Houston or New Orleans on his own dime and interviewed musicians and documented his travels. There was no template or travel budget for what they did. They were simply driven by a passion for the music and an interest in the lives of these artists.
Southern Register: The magazine has an interesting history, doesn't it?
Mark Camarigg: It does. British blues fans and researchers Mike Leadbitter and Simon Napier founded the Blues Appreciation Society in 1962 and launched Blues Unlimited magazine in April 1963. Blues Unlimited established itself as the world's first blues magazine and was a primary source for much of the blues information in the 1960s and '70s. Contributing authors to the magazine included Paul Oliver, David Evans, Chris Strachwitz, Jim O'Neal, and John Broven. Historically, Blues Unlimited gave impetus to the blues revival of the 1960s and influenced all blues publications that followed, including Living Blues. The magazine prided itself on being the first to publish interviews and news items about American blues musicians. To this day, these interviews and firsthand field reports remain a blues researcher's only guide for information on many significant blues artists.
There was a wonderful spirit about the magazine as well. They would publish the home addresses or phone numbers of musicians at the end of interviews and encourage readers to visit or write to them. The record and book reviews in the magazine also conveyed a wonderful sense of humor, but never at the expense of accuracy.
Southern Register: What was your selection process for the book? 
Mark Camarigg: Original editors Bill Greensmith and Mike Rowe were obviously familiar with the contents of the entire run of the magazine, so they had interviews in mind. Naturally, we wanted to include well-known artists like Freddie King and Albert Collins, but more often, the best interviews were with lesser-known artists.
The single best blues interview I've ever read is a 40,000-word piece Blues Unlimited ran on a guy named Jimmy Thomas that we've included in the book. Thomas was a backup singer for Ike Turner during Ike and Tina's glory days. His attention to detail and insights about the inner workings of a traveling band is compelling and reveals that some of the best information can be gleaned from folks in the background.
Blues aficionados can be tough to please, but I feel we collected a representative overview of the magazine and highlighted some neglected blues scenes, including St. Louis and Detroit. I think the book also reflects the spirit of the magazine. The BU writers and editors revered these musicians and gave them an opportunity to tell their story, and I hope it inspires readers to track down recordings by Big Maceo, Juke Boy Bonner, or Louis Myers after reading their stories.
Southern Register: You're working on an entire book series for Living Blues now, right?
Mark Camarigg: Yes, the Blues Unlimited project put me in touch with researchers, writers, and enthusiasts sitting on a lot of publishable material. I approached Illinois Press about possibly publishing a series of books, coedited by Jim O'Neal and myself, and their Faculty Board recently approved the idea for a Living Blues Books series.
Mike Leadbitter, founding editor of Blues Unlimited, completed a manuscript on a history of postwar Delta blues just before he died in 1974. Jim O'Neal has been revising and editing it over a period of years, and that should be the initial release in the series. I was scanning Leadbitter's original manuscript a few months ago, and it amazes me when things come full-circle like that.