As we kick off the spring semester, our second year MA students are hard at work on theses, internships, and documentary projects.  Below, a brief profile of each student.  These profiles, now with a few updates, originally came from a Southern Register article by Virginia Anderson in the fall of 2013 when the students arrived in Oxford.  Learn more about the Master's program here.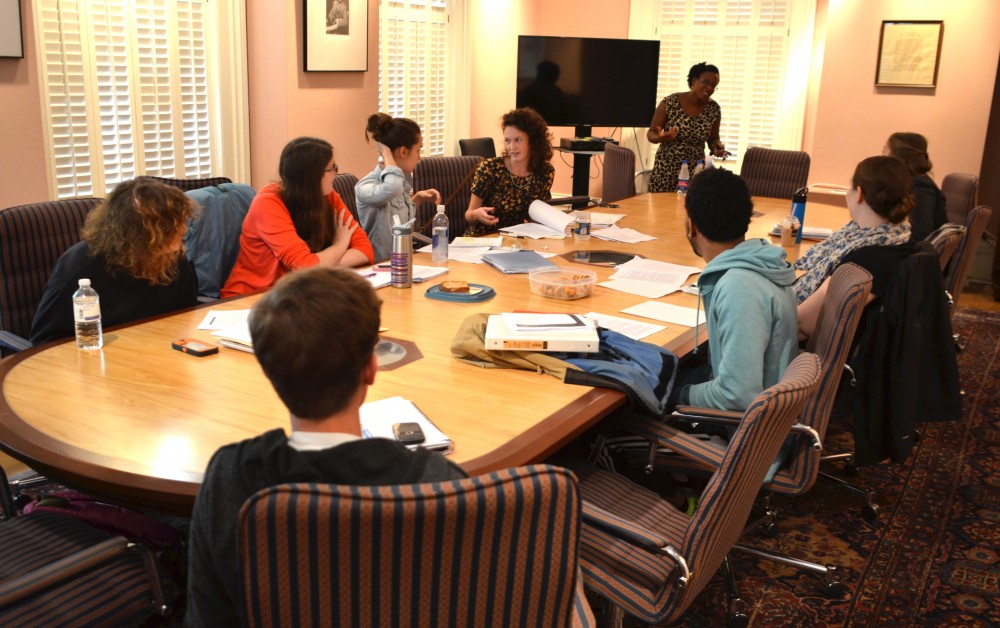 Amelia Brock came to us from Auburn, Alabama. Amelia got her bachelor's degree in interdisciplinary studies with a concentration in cultural studies from the University of Alabama. Her interests include public history, gender and queer studies, critical race studies, documentary photography, football, and really bad television shows. Amelia doesn't let SEC rivalries slow her down; she plans to live in every town in the SEC and hopes to be the second person to successfully domesticate a hippo.
Elizabeth Trollinger is from Danville, Kentucky. After graduating with a BA degree in English and history from Centre College, she stayed and worked as a communications fellow. This included working in the media hall for the 2012 vice presidential debate. A prolific writer, she not only wrote over 300 articles for the Centre College website, she also has a particular creative talent for writing haikus and is happy to add cheer to your day by writing a new one. Now that she has come to the Southern Studies program, Elizabeth wants to explore doing documentary work, while directing her research toward popular culture and the Appalachian South.
Grant LeFever is from South Carolina and is a graduate of the English and History Departments at Presbyterian College. Her favorite author is Pat Conroy. Grant loves travel, adventure, and the beach, which inspired her semester abroad on the Sunshine Coast in Australia. Grant is very close to her only sibling, a goldendoodle (a golden retriever bred with a poodle) named Edisto (Eddie for short) and the pair Skype weekly.
Kaitlyn Vogt, in addition to being a graduate of the American Studies Department at the University of North Carolina, Chapel Hill, is on a personal quest to obtain a BA in biscuit making. This new culinary challenge may be inspired from Kaitlyn's change in research topics with her move to UM. Although her senior thesis, under the direction of Bill Ferris, focused on bluegrass and folk music, here she is shifting her gaze to women's roles in creating and disseminating Southern food culture.
Originally hailing from outside of Atlanta, Katie King attended Boston University where she received a BS in journalism and American studies. In the past Katie has worked in music and entertainment journalism for both the Boston Phoenix and Paste magazine, and these days she's hosting a weekly show on Rebel Radio. Katie moved to Oxford with her cat, Capone, and has since gained a feisty little boxer named Sammie who likes to occasionally shred her class notes. With her research focusing on urban iterations in studies of space and place, Katie is currently using her background in journalism to work towards her documentary thesis on the Sweet Auburn Curb Market in the Old Fourth Ward of Atlanta.
Lauren Holt experienced two different Souths growing up, living in both South Carolina and Georgia. She went on to study art history and visual culture at Whitman College, work she is continuing here in Southern Studies.
Lindsey Kate Reynolds is a sixth-generation Texan, born and raised around Austin. She mandatorily attended the University of Texas at Austin, earning a BS in advertising. As a child, her father christened her with the nicknames "Biscuit" and "Chunky Tomato Sauce," thereby instilling a serious relationship with food. She is pleased as punch to begin the MA program in Southern Studies this fall and to work with the SFA. She prefers pie over cake (buttermilk or strawberry-rhubarb), and in her spare time she likes "to play around with cocktails."
Micajah Henley is a native Floridian who graduates from Flagler College in St. Augustine, FL with majors in History and Philosophy/Religion with a minor in English. His interests include the history of the civil rights movement, the writer Flannery O'Connor, and the South in film, particularly in the case of Quentin Tarantino.  His thesis will focus on Tarantino and his filmic representation of the region, its history, and its people. During his free time, he listens to stand up comedy and makes lists.
Purvis Cornish grew up in Rock Hill, South Carolina, and comes to us from Presbyterian College where he graduated cum laude. Purvis considers Toni Morrison the "literary momma" to his interests in literature and cultural studies.
Shawna Felkins grew up in Glasgow, Kentucky, and graduated summa cum laude from Western Kentucky University having majored in English and minored in gender and women's studies. As an undergrad her thesis was "Bones, Frogs, and Killers: The Corporeal Oppression of Women in the Patriarchal, Christian South." Shawna continues this line of inquiry here at UM, researching corporeal feminism in Southern literature and women in food. Shawna finds inspiration in the Kentucky kitchens that she learned to make biscuits, dumplings, and chocolate gravy in, as well as in the occasional Disney movie.
Virginia Anderson grew up Staunton, Virginia, a town abundant in churches and surrounded by the farms of the Shenandoah Valley. She moved to Oxford to pursue an undergraduate degree in English literature and religious studies and fell in love with the Magnolia State. She received a master's degree at the University of Colorado, Boulder, in religious studies, concentrating on "faith and foodways" in the American South.