New Book on the Blues Edited by Camarigg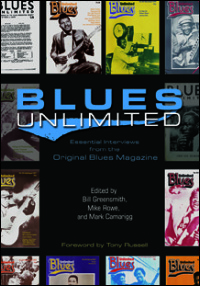 Mark Camarigg, Manager of Center publication Living Blues magazine, is co-editor with Mike Rowe and Bill Greensmith of a forthcoming book of interviews from the magazine Blues Unlimited. The book will be published in September.
Here's the press release about the book from the University of Illinois Press page:
British blues fans Mike Leadbitter and Simon Napier launched the magazine Blues Unlimited in 1963. The groundbreaking publication fueled the then-nascent, now-legendary blues revival that reclaimed seminal figures like Son House and Skip James from obscurity. Throughout its history, Blues Unlimited heightened the literacy of blues fans, documented the latest news and career histories of countless musicians, and set the standard for revealing long-form interviews.
Conducted by Bill Greensmith, Mike Leadbitter, Mike Rowe, John Broven, and others, and covering a who's who of blues masters, these essential interviews from Blues Unlimited shed light on their subjects while gleaning colorful detail from the rough and tumble of blues history. Here is Freddie King playing a string of one-nighters so grueling it destroys his car; five-year-old Fontella Bass gigging at St. Louis funeral homes; and Arthur "Big Boy" Crudup rising from life in a packing crate to music stardom. Here, above all, is an eyewitness history of the blues written in neon lights and tears, an American epic of struggle and transcendence, of Saturday night triumphs and Sunday morning anonymity, of clean picking and dirty deals.
Featuring interviews with: Fontella Bass, Ralph Bass, Fred Below, Juke Boy Bonner, Roy Brown, Albert Collins, James Cotton, Arthur "Big Boy" Crudup, Joe Dean, Henry Glover, L.C. Green, Dr. Hepcat, Red Holloway, Louise Johnson, Floyd Jones, Moody Jones, Freddie King, Big Maceo Merriweather, Walter Mitchell, Louis Myers, Johnny Otis, Snooky Pryor, Sparks Brothers, Jimmy Thomas, Jimmy Walker, and Baby Boy Warren.
"Blues Unlimited was not only an amazing source of information but also an inspiration to the founders of Living Blues magazine. We wanted to do our part in America to join in and complement BU's groundbreaking work. The late Mike Leadbitter, co-editor of BU, and his successors left a marvelous legacy of blues literature and generously shared their research with us."–Jim O'Neal, co-founder, Living Blues magazine
"There is a remarkable variety of work here. The obvious commitment to tradition, to getting the story right, reporting it accurately, and providing an unstinting platform for the voices of the human beings that created this musical tradition, shows through time and again, with candor and clarity."–Steven C. Tracy, author of Hot Music, Ragmentation, and the Bluing of American Literature
"Without Blues Unlimited, our knowledge and understanding of the history of the blues would be neither as rich nor as detailed as it is. We owe every contributor a debt of gratitude that we can only repay by appreciating their efforts."–Paul Vernon, author of Last Swill and Testament: The Hilarious, Unexpurgated Memoirs of Paul 'Sailor' Vernon, Blues Fanatic, Rare Record Dealer, Ligger, Erstwhile Bon Viveur, and Friend to the Stars
"The Blues Unlimited crew provided a wonderful service to blues enthusiasts worldwide and did themselves proud–real trailblazers. A sure, can't miss winner."–Steve Cushing, host of Blues Before Sunrise and author of Pioneers of the Blues Revival