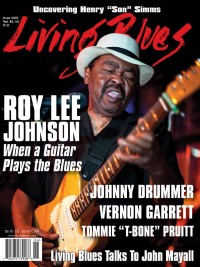 The June issue of Living Blues features a cover story on guitarist Roy Lee Johnson, a central figure in the 1960s Georgia blues scene who is releasing his first record in 15 years later this year. Inside the magazine are articles on Johnny Drummer, Vernon Garrett, Tommie "T-Bone" Pruitt and Henry "Son" Simms, a blues fiddler and guitarist who recorded with Charley Patton and Muddy Waters, whose gravesite has only recently been discovered.
Also included is a conversation with John Mayall, known as the "Godfather of British Blues," and the 2014 Living Blues Awards ballot. As always, the issue includes blues news, over 50 reviews of newly released albums, DVDs, and reissues, and blues radio charts.
For information on how to subscribe, visit the Living Blues website.