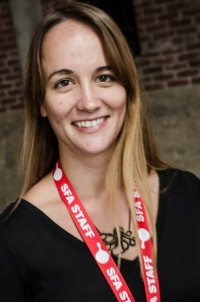 This article, by the SFA's Sara Camp Arnold, appeared in the Summer 2014 issue of the Southern Register.
For the last two academic years it has been the Southern Foodways Alliance's pleasure to work with Anna Hamilton, a Nathalie Dupree Graduate Fellow. Among her many other responsibilities, Anna led the volunteer crew at the last two fall symposia, secured permissions for Cornbread Nation 7, researched and cowrote a scholarly essay on the history of Farish Street in Jackson, Mississippi, and produced dozens of "Okracasts" (podcasts) using the SFA oral history archive as source material. Anna successfully defended her thesis and received her MA in Southern Studies in May.
Hamilton's thesis, "Bottling Hell: Myth-making, Cultural Identity, and the Datil Pepper of St. Augustine," was the winner of the Ann Abadie Award for Documentary Media. The annual award goes to the Southern Studies student (undergraduate or graduate) with the best documentary film, photography project, audio recording, or website. Winning projects can be theses, or they can be assignments in individual classes.
SouthDocs director Andy Harper, Hamilton's academic advisor, describes her thesis as "an ambitious look at the ways that communities establish identity within the framework of cultural tourism." In Hamilton's words, "This thesis interrogates the Datil pepper (Capsicum chinense) as a potent cultural symbol against a backdrop of heritage tourism in St. Augustine, Florida."
"Anna's project is the best example of applying documentary techniques into a traditional thesis as she incorporates oral history, photography, and scholarly research," said Harper. "Anna also produced a multimedia website to let us see and hear the people who helped tell her story."
Anna's website can be found at bottlinghell.wordpress.com.