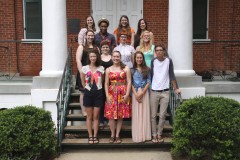 Today, another guest post from a grad student, this time from a second year who is hard at work on her thesis.  Virginia Anderson grew up in Staunton, Virginia and holds an undergraduate degree in English and religious studies from UM and a master's in religious studies from the University of Colorado, Boulder.  Her research interests include faith and foodways.
Landing on a Thesis TopIC
Being in an interdisciplinary program is both exciting and terrifying. When you have the opportunity to do so many things, how do you decide what you are going to focus on? Like everything else we talk about in graduate school, it's complicated. In the end it's a balance between being practical and being passionate.
My first piece of advice is to remember that this in your project. When working on your thesis plan you should take advantage of anyone willing to talk with you about your work, but in the end you have to decide what you really want to do. After all, you are going to be the person immersed in this subject for many, many hours.
Second, design the right project for the time, for the program, and for you. Every research project has time constraints but this is especially true for a terminal master's degree. It's hard to balance the construction of a thesis plan with other demands, such as class assignments and the biological need for sleep. Be practical. Also, look at the specialties of faculty members and the research resources around you. What can you do better here than anywhere else? Do you have enough support or personal experience with a subject to make it central to a research project? I cannot stress enough that this is your work, your voice, and although it is in conversation with other people, you need to do the project you are prepared for and the work that you want to do.
Third, don't let the idea that this is a thesis project intimidate you any more than necessary. If you have designed the right project for yourself then you have to remember that this is what you are good at, just on a slightly bigger scale. Have some faith and confidence and make your argument unapologetically.
My fourth piece of advice is a personal preference. Everyone has their own way of researching, but for me number four is this: continue to research. Yes, sometimes you will stumble on something that completely throws off your argument, but the trick is to not to be too attached to the work that you've already done. It's inevitable that you will have to delete or cut parts of your project that you would prefer to keep. However, continuing to research while writing is not as much about making your argument air-tight as it is about keeping your mind invigorated. It would be wrong of me not to say that this is not a time-consuming process. The more you are invested in the topic, the more time you will find yourself researching, writing, and re-writing. Personally, continuing to let myself look at other voices while I'm writing keeps my work not only increasingly nuanced, but exponentially interesting to myself.
Finally, take a break. Even when it feels impossible to stop worrying, even for an instant. In fact, especially when it feels impossible to stop worrying for even an instant. The stress and difficulty of this work makes respite necessary. Of course your thesis project is very important, but in the end this is not life and death. Even the most brilliant minds in academia do not produce perfect projects. This is just one step in what you are planning to do.
Ultimately, the thesis stage is different for every person but if you have reached this point, you are ready for it! Enjoy where you are and never forget to take a deep breath.