Center Partners with MHC for "Ideas on Tap: What Happened to Affordable Housing?"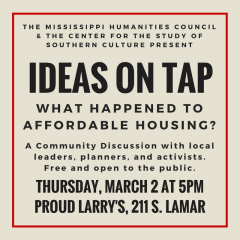 The Center will partner with the Mississippi Humanities Council to host a free and open to the public conversation on issues related to equitable access to affordable housing on March 2. The Ideas on Tap event, "Ideas on Tap: What Happened to Affordable Housing?" will be held at Proud Larry's from 5pm to 6:30pm.
The program panel will feature Judy Daniel, Director of Planning for the City of Oxford, local resident and advocate Doretha Harris, James M. Thomas of the UM Department of Sociology, and Desiree Hensley of the UM School of Law and Director of the Low Income Housing Clinic. Kevin Frye, Lafayette County Supervisor, will moderate the conversation.
"The Center is excited to partner with the MHC on this discussion of an issue that affects so many people in Oxford and Lafayette County, and beyond. We're excited to learn from the panelists, who represent the community of Riverside, city government, and the university," said Center for the Study of Southern Culture Associate Director for Projects Becca Walton.
The Mississippi Humanities Council began its Ideas on Tap series in 2016, and past programs in casual spaces explored brain drain in Mississippi, the state flag, and women in politics. Future program topics include technology and innovation, education, and public health issues.
"Ideas on Tap has provided a great opportunity for us to engage with communities and practice the true meaning of civil discourse while discussing important, relevant issues in a casual atmosphere. We've been very pleased with the response to these programs, and are thrilled to be able to take Ideas on Tap on the road and work with great partners like the Center for the Study of Southern Culture," said Mississippi Humanities Council program officer Caroline Gillespie.
For more information on Ideas on Tap programming throughout the state, contact Caroline Gillespie at cgillespie@mhc.state.ms.us. For information on the Oxford event, contact Becca Walton at rwalton@olemiss.edu.