August/September LIVING BLUES Available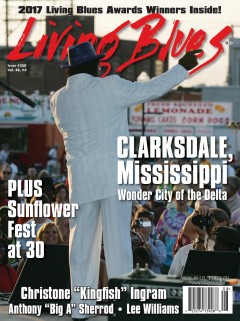 The August/September #250 issue of Living Blues celebrates the blues of Clarksdale, Mississippi and the 30th anniversary of the Sunflower River Blues & Gospel Festival.
Our spotlight on Clarksdale includes an overview of 30 years of Sunflower Fest, a look at some of the city's next generation of blues musicians and the music education programs that have spawned them. We explore two of the funkiest juke joints in the area, Big Red's Place a.k.a. Red's Lounge and Robert "Bilbo" Walker's new club just outside of Clarksdale, the Wonder Light City, housed in an old, blue Quonset hut. Jim O'Neal details the evolution of the blues in Coahoma County, in the first of a series of Clarksdale blues articles we plan to publish. As usual, in our location issues we also highlight items of interest for blues fans including festivals, clubs, music stores, blues gravesites and of course all of the best local restaurants.
We also announce the winners of the 2017 Living Blues Awards, continue our Paramount Records Centennial series, and feature the latest Blues News, record reviews and Living Blues radio charts.
Digital and print subscriptions to Living Blues start at just $18.00 and are available at www.livingblues.com.