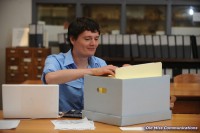 Archives and Special Collections at the University of Mississippi has many collections of interest to students of the South.  Several years ago, Center intern Norma Barksdale, with the southern studies scholar in mind, made a helpful guide to the available collections.  She created two lists, one an alphabetical list of all collections related to the South, and another organized by subjects like agriculture, civil rights, foodways, and politics.
The Blues Archive, part of Special Collections and one of the largest archival resources on the blues in the world, is also a valuable destination for Southern Studies researchers.  Check out their blues subject guide to learn more about offerings.
Special Collections (including the Blues Archive) is located on the third floor of the J. D. Williams Library.