April/May LIVING BLUES Available Now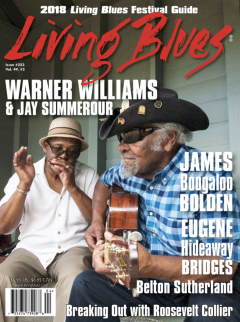 Living Blues #254 (April/May 2018) features the duo of Warner Williams and Jay Summerour on the cover. One of the last great East Coast blues duos, Williams (age 87) and Summerour do it the old-school way. Also featured is trumpet player James "Boogaloo" Bolden. Given the nickname "Boogaloo" by B.B. King because of his nonstop dancing on stage, James Bolden was King's bandleader for his last 21 years. Bolden now fronts his own band and continues to keep the legacy of King alive in B.B. King's Blues Band. Eugene "Hideaway" Bridges is a Louisiana-born, former Houston resident who had to leave the United States to get the recognition he deserved—but now he has now become a blues citizen of the world.
Camden, Mississippi native Belton Sutherland never made any records, but John Bishop, Worth Long and Alan Lomax filmed him performing a handful of remarkable country blues songs. We explore this bluesman's rare story. All this plus the 2018 Living Blues Festival Guide, Breaking Out with Roosevelt Collier, the latest Blues News, reviews and much more.
Digital and print subscriptions to Living Blues start at just $18.00 and are available at www.livingblues.com.