Apply to our MA Program in Southern Studies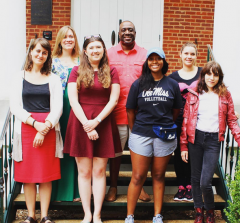 The Center welcomes applications to our Master's degree program in Southern Studies, the first and only degree of its kind. The program offers an intense interdisciplinary curriculum touching on many facets of Southern life, history, and culture.
Students take core seminars on the interdisciplinary study of the South, and they choose from among seminars on Southern history, literature, music, religion, and other topics; individual study courses that enable them to work closely with faculty; and workshops on documentary methods including oral history, photography, and filmmaking. Some students pursue internships that provide supervised work experience in cultural institutions.
One can pursue an MA in Southern Studies following one of three tracks: thesis, documentary, or internship. Learn more about the curriculum here and read about some of our alumni here. If you have questions, please contact Dr. Katie McKee, Graduate Studies Advisor, at kmckee@olemiss.edu. The application deadline is February 1, 2018.
The Center also has a MFA in Documentary Expression. Learn more about that program here.