Brown Bag: "Telling Our Stories – The Museum of Mississippi History and the Mississippi Civil Rights Museum"
-
-
Brown Bag: "Telling Our Stories – The Museum of Mississippi History and the Mississippi Civil Rights Museum"
When:
January 31, 2018 @ 12:00 pm – 1:00 pm
Where:
Barnard Observatory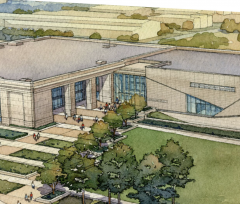 January 31 at noon
Katie Blount and Michael Morris
"Telling Our Stories: The Museum of Mississippi History and the Mississippi Civil Rights Museum"
Katie Blount, director of the Mississippi Department of Archives and History, and Michael Morris, from the department's Programs and Communication Office, will discuss the opening of the two new museums in downtown Jackson and their role in presenting history.
Katie Blount began her career at the Department of Archives and History in 1994 and became director in 2015. She earned her BA from the University of Michigan in English and history and her MA in Southern Studies from the University of Mississippi. She lives in Jackson with her husband and their two children.
Michael Morris has served as a public information officer at the Mississippi Department of Archives and History since 2016. Previously, Morris served as a research assistant at the Fannie Lou Hamer Institute on Citizenship and Democracy. He earned his BA in history and his MA in political science from Jackson State University. Morris is a life-long resident of Jackson, Mississippi.