SouthTalks: "Region, Race, and History: Racial Palimpsests in the Southern U.S."
-
-
SouthTalks: "Region, Race, and History: Racial Palimpsests in the Southern U.S."
When:
October 12, 2022 @ 12:00 pm – 1:00 pm
2022-10-12T12:00:00-05:00
2022-10-12T13:00:00-05:00
 "Region, Race, and History: Racial Palimpsests in the Southern U.S." with Angel Parham (virtual event)
The racial history of the US is too often defined monolithically in terms of a Black/White color line which has consistently dominated the country. But careful attention to particular regional histories, particularly in the US South with its connections to Latin America and the Caribbean, make clear that there have always been regional nuances that complicate the Black/White dualism often assumed to shape understandings of race across the United States.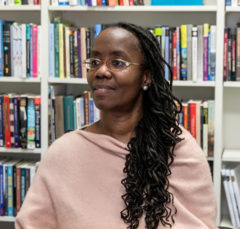 Angel Adams Parham is associate professor of sociology and senior fellow at the Institute for Advanced Studies in Culture at the University of Virginia. Her research is in the area of historical and comparative-historical sociology of race. She is the author of American Routes: Racial Palimpsests and the Transformation of Race, which examines changes in race and racialization in New Orleans under the French, Spanish, and Anglo-American administrations.
This event is cosponsored by the University of Mississippi Center for the Study of Race and Racism exploratory group.
SouthTalks is a series of events – including lectures, performances, film screenings and panel discussions – that explores the interdisciplinary nature of Southern Studies. This series is free and open to the public.