SouthTalks: "Race and the College Mobility Trap"
-
-
SouthTalks: "Race and the College Mobility Trap"
When:
April 26, 2023 @ 12:00 pm – 1:00 pm
2023-04-26T12:00:00-05:00
2023-04-26T13:00:00-05:00
Where:
Barnard Observatory, Tupelo Room

"Race and the College Mobility Trap" presented by Ryan Parsons
Educators are used to telling students that education, and especially higher education, is a reliable pathway to social mobility. For many students, especially young people of color from disadvantaged communities, this pathway is marked by detours, potholes, and other obstacles to "conventional" success. In this talk, Parsons revisits the idea of "the mobility trap"— situations in which people must choose between mobility options that make sense locally and mobility options that make sense nationally—through interviews with a cohort of current Black college students from Sunflower County, Mississippi. These students are enrolled in a range of institutions from local community colleges to private HBCUs to flagship institutions like the University of Mississippi. How are they doing? What does success in college mean for their social networks at home? What do these successes (and challenges) mean for higher education?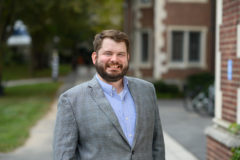 Ryan Parsons is an assistant professor of sociology and Southern Studies at the University of Mississippi. In his research, Parsons explores how questions of space and race intersect to structure mobility opportunities, especially in rural and depopulated communities. His dissertation was a community study of Sunflower County in the Mississippi Delta, where he spent three years working with a cohort of young people who aspired to go to college. His teaching draws on these experiences as he helps students think critically about what it means to study a community, and in particular a community they have chosen to call home.
SouthTalks is a series of events (including lectures, performances, film screenings, and panel discussions) that explores the interdisciplinary nature of Southern Studies. This series is free and open to the public, and typically takes place in the Tupelo Room of Barnard Observatory unless otherwise noted.