SouthTalks: "I Don't Wanna Say the Wrong Thing! How to Reconcile with Race in the Classroom"
-
-
SouthTalks: "I Don't Wanna Say the Wrong Thing! How to Reconcile with Race in the Classroom"
When:
February 8, 2023 @ 12:00 pm – 1:00 pm
2023-02-08T12:00:00-06:00
2023-02-08T13:00:00-06:00
Where:
Barnard Observatory, Tupelo Room

"I Don't Wanna Say the Wrong Thing! How to Reconcile with Race in the Classroom" presented by  Frederick Gooding Jr.
Discussing topics centering around race can often be awkward and uncomfortable—but it doesn't always have to be! Uncover and discover how we are closer to racial reconciliation than we think by learning the three key steps we can take inside of our classrooms. This session will persuade attendees to reflect upon their campus practices and consider additional ways in which they can provide welcoming and culturally relevant institutionalized experiences for both their current and future students.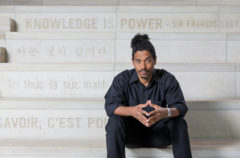 Frederick Gooding Jr. is an associate history professor and the Dr. Ronald E. Moore Endowed Professor of the Humanities at Texas Christian University in Fort Worth, Texas. Featured in national publications such as the New York Times and USA Today, Gooding critically analyzes images within mainstream culture and engages audiences on racial patterns hidden in plain sight. "Dr. G," as he is affectionately known, has also provided social commentary on CBS, NBC, and Fox News networks, and served as inaugural Chair of TCU's Race & Reconciliation Initiative.
SouthTalks is a series of events (including lectures, performances, film screenings, and panel discussions) that explores the interdisciplinary nature of Southern Studies. This series is free and open to the public, and typically takes place in the Tupelo Room of Barnard Observatory unless otherwise noted.