Porter Fortune, Jr. History Symposium on Southern Religion
-
-
Porter Fortune, Jr. History Symposium on Southern Religion
When:
February 27, 2015 – February 28, 2015
all-day
2015-02-27T00:00:00-06:00
2015-03-01T00:00:00-06:00
Where:
University of Mississippi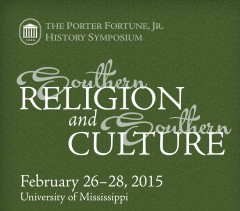 Below is the amended schedule, taking into account the University's closure on Thursday, Feb. 26. 
The 2015 Porter Fortune, Jr. History Symposium will take place February 27 – 28 on the University of Mississippi campus.  The symposium will honor the recent retirement of Charles Reagan Wilson with a series of talks and panel discussions on the topic of Southern Religion and Southern Culture.   Some of Dr. Wilson's former students will be involved in the symposium as moderators, and others will help discuss his work as scholar and mentor.
All sessions free and open to the public.  Schedule subject to change.
2015 PORTER FORTUNE, JR. HISTORY SYMPOSIUM
Southern Religion and Southern Culture
Co-sponsored by the Center for the Study of Southern Culture and the
University of Mississippi History Department
Friday, February 27
All Friday sessions are at the Yerby Conference Center. Concert at Barnard Observatory.
9am Papers
Moderator: Ryan Fletcher, North Carolina Wesleyan College
Print and Sacred Song in the Early South
Beth Barton Schweiger, University of Arkansas
Spirit in the Air: Pentecostal Media Innovation in the 20th Century South
Randall Stephens, Northumbria University
10:30am Paper
Introduction by Becca Walton, University of Mississippi
'The Pure of Body are Pure of Soul': Religion and the Making of the South's Sports Culture, 1865-1926
Arthur Remillard, St. Francis University
1:30pm Panel Discussion: Southern Culture and Popular Religion
Moderator: Amy Wood, Illinois State University
Alison Collis Greene, Mississippi State University
Colin Chapell, University of Memphis
Chad Seales, University of Texas
3pm Papers
Moderator: Ted Ownby, University of Mississippi
"Whatever Happened to Separation of Church and State?'  Southern Baptists and the Struggle over Religion in Public Schools, 1962-2006"
Charles Westmoreland, Delta State University
'Shame of the Southland': The Selling of the Visceral South
Sarah Gardner, Mercer University
4:30pm "Judgment, Grace, Race, and the Transcendental Blues: Studying Religion in the South in the Era of Charles Reagan Wilson"
Keynote Lecture by Paul Harvey, University of Colorado, Colorado Springs
Introduction by Darren Grem, University of Mississippi

7:30pm Concert with Caroline Herring, Barnard Observatory
Saturday, February 28
At Barnard Observatory
9am Panel Discussion: Race and Civil Religion in the South
Moderator: Ted Ownby, University of Mississippi
Carolyn Renee Dupont, Eastern Kentucky University
John Giggie, University of Alabama
Calvin White, Jr., University of Arkansas
10:30am Discussion of the future of the field of Southern religious history and of the scholarly research and teaching legacy of Charles Reagan Wilson.
Moderated by Paul Beezley, Jacksonville State University and James G. Thomas, Jr., University of Mississippi