Fall 2022 Showcase Steinroeder
-
-
-
-
-
Fall 2022 Showcase Steinroeder
Kaitlyn Steinroeder
4 Corners
4 Corners is a photo exploration of the intersection of Molly Barr Road and North Lamar Boulevard in Oxford, Mississippi. This intersection is full of different people coming together to create a center full of food and community. With new construction and development happening just a stone's throw from the intersection, I couldn't help but wonder how this will affect the businesses and people that make this location what it is.
During lunches at the 4 corners, I observed people taking time to relax and connect in the middle of a gravel parking lot. With the addition of an authentic Mexican food truck known as El Colibrí (The Hummingbird), the gravel lot is transformed into a bustling restaurant. The people running the food truck seemed to have a relationship with every patron, with almost every order coming with a friendly conversation. Workers on break relaxed when they stepped in line to order, families sat and enjoyed Friday lunches at the folding tables, and newcomers from around the Oxford community came to try the delicious food. Places like this are essential for towns like Oxford. They are a space removed from work and home that create authentic community and fellowship.
Oxford is a growing town; there is no denying that. I grew up in Wake County, North Carolina, the 3rd fastest-growing county in the country. I saw firsthand how large amounts of development could affect the authenticity of a neighborhood. What I witnessed at 4 Corners is special and worthy of preservation. Through my photos I hoped to capture the authenticity that I experienced while being there.
---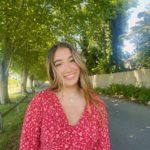 Kaitlyn Steinroeder is a sophomore from Wake Forest, North Carolina pursuing a BFA in Film Production. She hopes to work in many different areas of storytelling and creating after graduation and has interests in documentary work, writing, and photography. Kaitlyn currently serves as the Creative Planner for UM Square Magazine. In this on-campus fashion publication, she heads a team of creative individuals and plans and executes multiple monthly photoshoots rooted in fashion.