Fall 2022 Showcase Gaines
-
-
-
-
-
Fall 2022 Showcase Gaines
Lucy Gaines
You Are Here: Time, Place, and Mobility on the Natchez Trace
This path – intuited by animals, adopted by Native Americans, claimed by traders, stolen by robbers and racists, now preserved in pamphlets in the back pockets of riders and restroom-seekers – is limited by any singular history. The 'scenic Natchez Trace' approximates "with accuracy" a network of well-worn paths comprising The Old Trace with commemorative stops along the way. It also traces my own movements through habitats and seasons – to "take the Trace" is an engrained, personal routine. Veering away from cities, semis, and wifi, banality grows vibrant again in bold, natural hues, rich aromas of upturned earth, and densities in the air reminiscent of fairy tales and folklore. What does it mean to be lured by a land–scaped by hooves, hands, harm, and harvest? What does it mean to be compelled to stop, not by the monumental but by the everyday?
With an eye towards multispecies entanglements in this postcolonial landscape, I see a network of rooms and hallways here. Portals open to some and barred for others aren't always for whom you might expect.
This visual journey is designed to conjure my highly sensory yet contemplative experience of navigating the Trace alone. Its push-pull sequence interrogates my comfort in stillness versus movement, and positions our present-day pace within a complex entanglement of multispecies, ecological, storied, and historical agendas.
---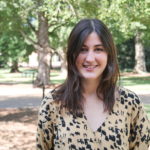 Lucy Gaines is a writer and documentarian in pursuit of an M.A. in Southern Studies and Documentary Expression at The University of Mississippi. Previously, she earned her B.F.A in Art and B.A. in English Literature from Rhodes College before working across creative disciplines to hone her multimedia storytelling approach. Her current research and creative projects seek to challenge and mobilize the definitive "sense of place" once attributed to the American South.