Fall 2022 Showcase Denoulet
-
-
-
-
-
Fall 2022 Showcase Denoulet
Elise-Joelle Denoulet
Skater Boys
Skater Boys started as an oral history conversation with Austin Beard, from Horn Lake, MS, who has been skateboarding since he was about ten years old. His enthusiasm for skateboarding sparked my interest and made me want to start working towards turning this project into a short film. After spending several months filming Austin and his friends, I grew fond of the friendship between Austin and Skyler King, another skater, and how their stories mirror each other. Both grew up in complicated home situations and they each found in skateboarding a refuge, a gateway.
This short film follows Austin and Skyler in their skateboarding adventures, and dives into what skateboarding means to them. Skateboarding not only allowed them to meet plenty of friends, it also forged who they are as people. I hope that through this short documentary the viewer feels the warm welcome of a community that I was a total stranger to.
---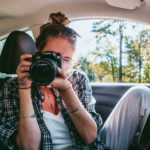 Elise-Joelle Denoulet was born in Lille, France, where she got her Bachelor's degree in English. She moved to Mississippi to go to graduate school in 2020 when she entered a Master of Arts in Journalism at the University of Mississippi. After graduating in May 2022, Elise-Joelle entered a Master of Fine Arts in Documentary Expression with the Center for the Study of Southern Culture. Elise-Joelle is working towards a career in documentary filmmaking.