Brown Bag: Introducing the Do Good Fund by David Wharton and Brooke White
-
-
Brown Bag: Introducing the Do Good Fund by David Wharton and Brooke White
When:
October 4, 2017 @ 12:00 pm – 1:00 pm
Where:
Barnard Observatory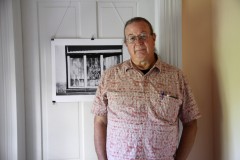 David Wharton and Brooke White will introduce two new documentary photography exhibits at UM from the Do Good Fund. Dr. Wharton is Assistant Professor of Southern Studies, and Brooke White is Associate Professor of Art at the University of Mississippi.
The Do Good Fund, Inc. is a public charity based in Columbus, Georgia. Since its founding in 2012, the Fund has focused on building a museum-quality collection of photographs taken in the American South since World War II. The collection ranges from works by more than a dozen Guggenheim Fellows to images by less well-known emerging photographers working in the region.
Do Good's mission is to make its collection of over 400 images broadly accessible through regional museums, nonprofit galleries and nontraditional venues, and to encourage complimentary, community-based programming to accompany each exhibition.